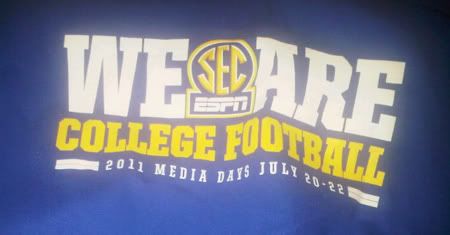 Today I went to SEC Media Days for the very first time. It will probably come as no surprise that I loved every single second of it. And I have every intention of boring you to tears (TO TEARS) with all my pictures and thoughts and favorite moments and etc.
But right now I'm wiped out, not to mention that I need to finish packing for my last bloggy trip of the summer and a flight that leaves early tomorrow morning.
So consider this post a bit of a placeholder. But if you're an SEC fan, you can watch the Media Days coverage live tomorrow and Friday on the SEC Digital Network, ESPN3, or via the free Watch ESPN app. The festivities start in the morning at 9:30 eastern, I think.
All righty. There you have it. It's been a good, full, happy day.