It was back in 2008, I think, when I first read Angie Smith's blog. I'm pretty sure that I found it because one of y'all sent me a link to it, and as soon as I finished reading one of her posts, I had to take a little break and grab a box of Kleenex and compose myself. I remember being blown away by the beauty of Angie's words, by the tenderness of her heart – and more than anything else, by the depth of her faith. It may sound crazy, but I liked her immediately. Even though, you know, WE WERE TOTAL STRANGERS.
As it turned out, though, we weren't strangers for long. I can't remember all the whys and the hows, but over time Angie and I became email buddies. Eventually it worked out for us to meet for coffee in Nashville one morning when I was visiting my sister, and SWEET MERCY we talked non-stop for three hours. Angie is one of those unique people who is fully present in a conversation – not looking at her phone or looking around the room or thinking about what she wants to say – and within the first four minutes of our visit that morning I was Officially Oversharing. What's so great about Angie, though, is that she overshared right back. And thus a real-life friendship was born.
A couple of years ago Angie wrote her first book, I Will Carry You. I loved the book for a whole host of reasons, and I always think of it as being the book that so captivated my mama that she not only read it non-stop during a visit to our house, she also packed it in her suitcase and took it home. Mama has good taste. I Will Carry You is so beautifully written, and I knew as soon as I read it that it would be the first of many books by Angie. She's such a gifted writer, and that's why I'm as tickled as I can be about reading her next book, What Women Fear.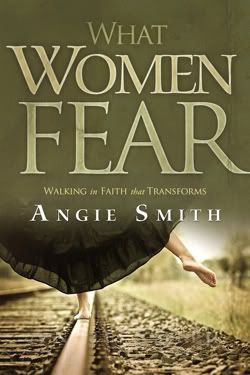 The new book doesn't come out until September 1, but when I found out about what's going on online today with Barnes and Noble and What Women Fear, I wanted to pass along the news. Barnes and Noble has really supported Angie both for I Will Carry You as well as What Women Fear, and they are doing an exciting one day pre-sale today, Monday, August 22 (online only – the offer isn't good in stores).
If you pre-order a copy today at http://www.barnesandnoble.com/WhatWomenFear, you will get 50% off, so the book is only $7.49. In addition, if you order the book today at Barnes and Noble online, email your order confirmation to whatwomenfear@gmail.com to be entered in a giveaway for two prize packs that each contain 10 books from B&H Women and a $25 Barnes and Noble gift card.
Just FYI: there's no sort of affiliate link in this post. I'm just telling you about the pre-sale because I thought you might like to know.
And don't forget: if you buy a copy of the book online today, email whatwomenfear@gmail.com to be entered in a giveaway (two prize packs) for 10 books from B&H Women and a $25 Barnes and Noble gift card.

Have a great Monday, everybody!