So yesterday I totally forgot to email the winners of Friday's impromptu iTunes gift card giveaway because, well, I'm lame. And also because I got all wrapped up in an episode of Guiliana & Bill even though? Seriously? I think that whole show is scripted. I mean, I'm certainly not saying that I'll no longer watch because they seem to be following some sort of general outline as they make their way through each episode, but last night I was thinking They totally made this up the whole way through the show. I'm not so sure that their house isn't on a backlot at Universal Studios, either. But, you know, whatever. Guiliana's hair is fab so KEEP THAT ENTERTAINMENT COMING.
Also, this has nothing to do with the giveaway winners, but Friday night I realized that at some point during the day I'd lost one of my beloved (AND I DO MEAN "BELOVED") multi-color beaded hoop earrings. I think I'm on my third or fourth pair of them; I started wearing them about four years ago and have not been without a pair since because THEY GO WITH EVERYTHING. Plus, I adore a hoop.
So Friday night, when it came to my attention that one of my earrings had gone missing (apparently the earring was British, otherwise it would have just been regular ole missing), I went into Earring Recovery Mode like nothing you've ever seen. It's a good thing, too, because I think I paid upwards of 7 American dollars for those earrings about a year and a half ago, and you have to be super-proactive when attempting to recover jewelry that valuable. I even contemplated alerting the authorities about the fact that my earring had GONE MISSING and then offering some sort of reward.
You know, something along the lines of a pack of Orbit gum or maybe even one of my most treasured Sharpie pens.
I called a store I'd visited earlier in the day to see if anyone had turned in a lone hoop earring, but alas, no luck. I finally accepted that the earring was gone forever (perhaps it decided to return to its homeland in England), and I figured that I'd run over to the shop where I bought them Saturday morning and see if they had a spare pair. Since I searched the internet for the earrings to no avail, the shop was my only hope.
This is starting to sound just a little bit like a Lifetime movie, isn't it? Just a wee bit? Just a smidge overboard in the drama department, maybe?
Anyway.
Saturday morning I was UP AND AT'EM bright and early, and by 9:40 I was out the door so that I could be at the store when they opened at 10. When I got there I headed straight for the jewelry section, and at first the prospects did not look good at all. There were tons of hoops but not a multi-colored bead in sight. Just when I was starting to contemplate what my future would look like without a multi-colored hoop earring as a part of my daily routine, I spied a bracelet that matched my beloved earrings. So I handed the bracelet to one of the sales clerks, and I very quickly said something like, "ArethematchingearringsinthebacksomewherepleaseIdon'tknowwhatI'lldowithoutthem?"
She asked another clerk, who pointed her in the direction of a storage cabinet, and do you know that within two minutes that sweet sales clerk was handing me these?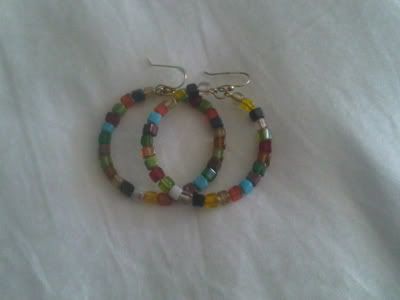 MADE MY WHOLE DAY.
But I'm sad to report that they've gone up to 8 dollars a pair.
Quality comes at a price, my friends.
Anyway, I've enjoyed welcoming my new earrings into the family, and I hope that they'll stick around for awhile. And I also think that I'm going to go back to the store where I got them and buy one more pair just so I'll have some insurance in the event that one of the newbies decides to GO MISSING at some point in the near or not-so-near future.
I'll be out 8 more dollars, of course, but the peace of mind will be priceless.
And even though I got a bit off-track with the whole giveaway update part of this post, I did want to tell you that I'm totally going to email the winners of the iTunes gift cards today.
So see? It all worked out.
My new earrings and I just couldn't be happier about that.
_______________________________________________
– Last week I wrote about my new OnStar FMV mirror (which I love, by the way). Here's the review if you're interested.