This probably isn't a surprise to most of you, but our little family tends to travel a lot.
A LOT.
And more often than not, we travel by car. I actually took our little guy on his first road trip when he was all of ten weeks old, and we've been on the go ever since. Since all of our family is scattered around the southeast and since we love traveling to college football and basketball games, being on the road is a regular part of family life for us. It's something that we love to do.
But.
My husband and I both drive cars with over 100,000 miles on them. That's not a complaint – we're as happy as we can be with our cars and will probably drive them until the wheels fall off – but we're both aware that the older our cars get, the more things can go wrong. I just had to get new tires and new brakes, and a new timing belt is next. Since my little boy and I travel a good bit without my husband in the summertime (he's at work while we're footloose and fancy free), I'm increasingly mindful of our safety in my increasingly older car. I don't feel UNsafe, mind you – but I want to be prepared to handle whatever might come our way. I want to know that there's an easy way to get help if something should (heaven forbid) go wrong.
So a few weeks ago, when BlogHer asked if I'd like to try one of the new OnStar FMV rear-view mirrors, saying yes was a no-brainer. The mirror works as a hands-free calling device, offers turn-by-turn directions, not to mention that it comes with Automatic Crash Response and Roadside Assistance. It seemed like it would be a perfect for us since my car doesn't have any of those features (it's a 2003 model, and there's nothing fancy about it). Plus, I loved the idea of having some extra safety measures in place as a result of having the OnStar FMV mirror installed.
And a few weeks ago, we welcomed our OnStar FMV mirror to the family.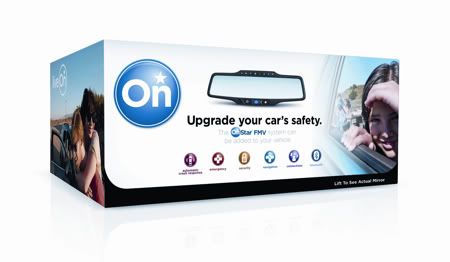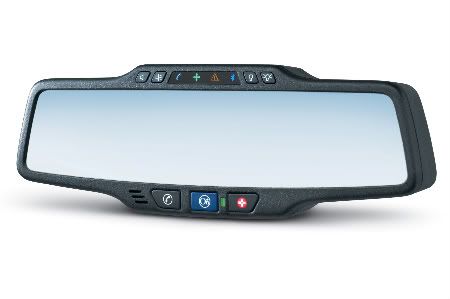 Thank you. Thank you so much. It's been a tender time.
Even though my expectations for the mirror were high, I wondered if I was in for a let-down when the installer called to tell me that my car was ready (installation took about an hour and a half, by the way). I picked up my car along with a few instructions, and after I sat in the parking lot and made sure that everything seemed to be in good working order, I pressed my new blue OnStar button and called the OnStar people to finish the set-up.
It only took about ten minutes to wrap up all the little details, and the customer service people were EXTREMELY helpful with their answers to my questions, especially when they explained how to pair my phone's Bluetooth with the mirror. In fact, I told my husband later that I think OnStar customer service reps must have to score a certain number on a personality test; they are so personable and kind and willing to help.
What surprised me the most, though, is how quickly we began to integrate the OnStar FMV mirror into our daily routine. A few days after the mirror was installed we went to the beach, and I looked up directions for our trip online and sent the directions to the mirror. When we got in the car, I hit the phone button, selected the directions from a menu – and got turn-by-turn instructions for the duration of our trip. From a safety standpoint I felt a lot more secure on some of the less-populated roads that we traveled, and even our eight year-old knew what button he needs to push if something unforeseen should happen. My husband loved knowing that if my phone rang, I didn't have to do one thing but touch the phone button on the mirror to be connected on speakerphone, hands-free.
Honestly, I think the mirror and I really bonded on that trip. I'm pretty sure that we're going to be BFFs for many years to come.
So as far as our new OnStar FMV is concerned? I have to say that I'm a fan. I love that it's an easy way for those of us who have older (or non-GM) cars to upgrade our cars' safety features without spending a fortune (you can buy one of the mirrors at Best Buy, FRYS, and similar retailers, and professional installation is recommended). I also love that it gives me an added feeling of security when I'm traveling – which, as I mentioned earlier, is A LOT. I have no doubt that our mirror is going to get a work-out during all of our road trips, and we're very, very grateful to have it along for the ride.
If you'd like more information, check out the OnStar FMV Facebook page, or swing by your local Best Buy. Also, be sure to take a look at other bloggers' reviews of the mirror.