Way back in ye olden days of 1993, I discovered something exciting and new at Limited Express. I wasn't looking for a new fashion crush at the time, you understand; I was just doing a little shopping, and when I walked in the store, I spotted something across the room that instantly appealed to me. And that was it. It was over. It was fashion love at first sight.
The object of my affection?
Palazzo pants. You know, the pants that look a little something like this.
asos
And listen. Once I grabbed hold of palazzo pants, I never wanted to let go. I had them in burgundy. In hunter green. In navy. In a navy and light blue stripe. IN A NONE-TOO-SUBTLE FLORAL PATTERN. Honestly, I was so crazy about them that I continued to wear them for a couple of years after they were no longer welcome in the fashion world, but I LOVED THEM. They were comfy and breezy and flowy and fun. I couldn't imagine that I'd ever wear straight-leg pants again.
Eventually, however, I decided to turn with the fashion tide. I left my palazzo pants behind and embraced the trends of the late 90s. I bought cargo pants from the Gap. I made sure to have a versatile denim vest. I accumulated a wide array of chiffon scarves. I familiarized myself with capri pants.
It's the fashion circle of life, people: you love, you grieve, you move on. And I really did move on from palazzo pants. Since I'd already been through a similar break-up experience with acid-washed jeans in the late 80s and Clothes Featuring Horses in the early 90s, I understood the process. It isn't always easy, but it's necessary.
Over the last few years I've only thought about palazzo pants occasionally. Every once in awhile I'd see a pair of pants with wider legs and think fondly of my palazzo pants from Express, but there was no bitterness there, no sense of unfinished business. There was closure. It even felt healthy to reminisce. Solid. Good.
But.
Early last week I bought a pair of brown wide-legged pants at Steinmart. When I tried them on I thought that the legs seemed a little extra wide, and for a split-second I wondered if they were supposed to be an updated version of palazzo pants. I quickly dismissed the thought, though, because surely someone would've told me if palazzo pants were on the fashion horizon again. Surely I would've noticed them on websites. Surely I would've seen them in stores.
When I got home from Steinmart I thought I'd do a quick search on Google just to check the lay of the palazzo pants land. I didn't expect to find anything, really – I just wanted to settle the issue once and for all in my mind. So I entered the search term. Clicked enter.
And y'all?
I haven't seen that many palazzo pants in one place since I went to Mississippi State Homecoming in 1994. THEY ARE EVERYWHERE.
I slowly started clicking on links to make sure that I wasn't looking at vintage clothing. And I wasn't. There was link after link after link to all sorts of current palazzo pants offerings. It was overwhelming. It was thrilling. It was confusing. It was sensory overload.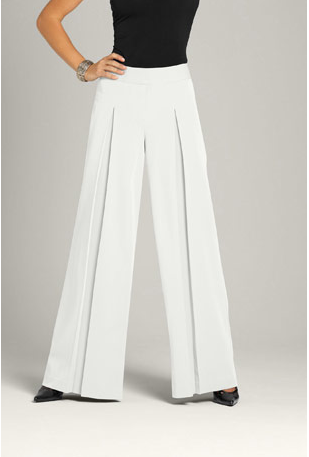 metrostyle
Free People
Anthropologie
asos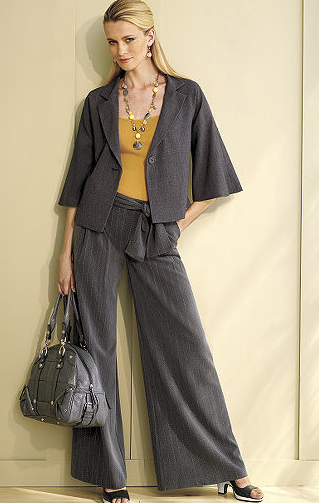 Spiegel
Forever 21
(Auburn fans, I'd be ALL OVER these if I were you.)
I immediately called Melanie after I checked out the links, of course. The news was too big not to share it. Plus, I needed to process the recent fashion development. Think it through. Decide if I'm a strong enough person to walk down the palazzo pants path again.
In the end, I've decided that I'm absolutely delighted about the resurgence of palazzo pants. I may have to guard my heart a little bit better this time around, mainly so I don't hold on too long once they fall out of favor again. But I'm definitely going to welcome them with open fashion arms. They're too flattering and too comfortable to ignore. But I think it goes without saying that if we were talking about stirrup pants, it would be an entirely different story.
What about y'all? Are you a fan of palazzo pants? Happily indifferent? Not going anywhere near a pants leg that's so flouncy and wide?
Tackling the tough issues,
Me