So back in the spring I wrote a post about my fondness for the asymmetrical hemline. However, I have to tell you that despite my best intentions, I don't think that I was necessarily using the right terminology when I tried to describe the object of my fashion obsession (though I do have a couple of cardigans where each side is a different length, so I think those would in fact qualify for the asymmetrical moniker).
Anyway, I think what I should have said is that I was smitten with open front cardigans in general and handkerchief hemlines in particular. And I still am smitten with them – mainly because I still feel like I've met my fashion goals for the day if I get dressed in the mornings and bear some resemblance to Maude. And let me tell you: there is nothing that will help you achieve Maude-related fashion goals faster than an open cardigan. If there's a handkerchief hemline, then all the better.
I want to assure you, though, that I'm going to try to practice Maude moderation this fall since I'm well-aware that combining my beloved open front cardigans with all the new palazzo pants possibilities may be too much Maude for the average citizen to bear. I mean, I'm all for looking to Maude for some fashion inspiration, but I'm not necessarily interested in looking so much like her that people start to hear a certain theme song when I walk by.
Yesterday we had our first little tiny hint (tease) of cool in the air, which naturally made me want to look for all manner of cute, Maude-ish clothes for fall. Some of these are what Martha would call "transition pieces! they're transition pieces! you wouldn't wear them in the winter, necessarily, but they'd be perfect in September and October, you know, when you go to breakfast with the girls! They're just adorable for breakfast with the girls!"
So here are a few (or 12) of my open cardigan favorites, and then I'll be all done with talking about clothes for a very long while because I think we've already established that the extent of my fashion expertise is, well, dressing like Maude. And it probably comes as no surprise that the demand for such a skill is practically non-existent.
This one from Loft is oh-so-versatile.
This plus-size Awake Rosette Trim cardigan (on sale!) would look good with just about anything; you could dress it up or dress it down.
This Style & Co. cardigan = great price, great colors.
And you can't beat this one for when the Maudes of the world need maternity clothes.
This striped cardigan, in sizes 14 and up, is super cute.
I found the love's sweet innocence curvy plus cardigan when Melanie linked to Ruche on one of her Fashion Fridays. Love their vintage looks – very fun and girly.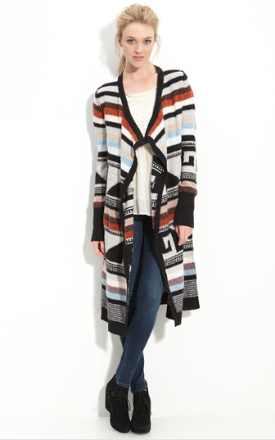 The Rolla Coaster Open Cardigan? It's a rolla coaster of love is what it is. It's also out of my league budget-wise, but it's so cute that I had to include it.
Technically this Style & Co. ruffled vest (plus) doesn't have a handkerchief hemline, but it's on sale and a great layering piece for fall.
Gorgeous though it is, I would never, ever pay full price (or even half price) for this Balkhash Shawl, so I look forward to the pretend day when it's marked down to $20. My imagination and I will be so happy when that happens.
This tie dye cardigan (petite) is a kicky variation on stripes. I'm such a fan of tie-dye in moderation, by the way.
You may have noticed that I have sort of a thing about stripes. I LOVE THEM.
This Hive & Honey Cable Tassel Cardigan makes me long for chilly mornings. It's Maude-esque, for sure – but 21st century Maude. In fact, I think Maude would wear this sweater to Starbucks with jeans and tall boots.
And she'd look FANTASTIC.
Have a great Tuesday, y'all.