I hardly ever post on Saturdays, but considering that we have had a day with absolutely nothing to do and nowhere to be (though I did make a quick trip to the Steinmarts since I had a coupon burning a hole in my pocket), I thought I'd check in here.
So. Let the checking in commence, I reckon.
In all honesty, the last 8 or 9 days have been sort of a WHITE HOT MESS in terms of some junk that I've been walking and wading through with people I care about a whole bunch, and while I think everything (Martha-speak alert) is going to be fine! just fine! it's all going to be perfectly fine!, that doesn't change the fact that it's made for a pretty tiring week-and-some-change around these parts. A few nights ago I met some friends for supper, and as much as I was trying to be a gamer in terms of contributing to the conversation, there were several points during dinner when I nearly dozed off. My friends were hilarious, mind you, but there was something about the combination of the dimly-lit booth and being able to sit still for an extended period of time that left me a wee bit drowsy.
And that's pretty much been the norm around here lately: plow through the day, try to stay awake during meals, fall asleep during a TV show, crawl in the bed, wake up at 5:30 the next morning – and repeat. And repeat. And repeat.
Oh, it has been a refreshing time.
Last weekend I told D that since I'm pretty locked in to several different obligations, this isn't really one of those times when I can just decide to cut back on a couple of things in the interest of feeling more sane and rested. So, since I can't necessarily do less, I have to figure out how to work smarter. I feel fortunate because I love everything that I'm doing / working on, but I'm not much good to my people if I'm so worn out from it all that I'm walking around in a daze half the time. And that is precisely why we now have a new addition to our family.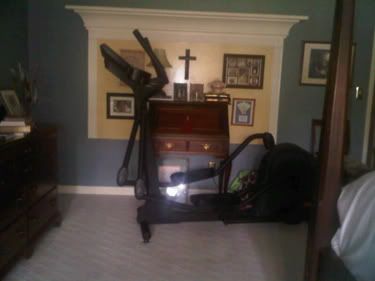 Yes. You're seeing correctly. That would be a (used) elliptical motion machine. We bought it from one of our neighbors earlier this week, and I'm hoping that it'll help Mama here have a little more energy and as a result be significantly less likely to fall asleep in the middle of TV shows and/or conversations. It's HUGE, so today we're going to try to figure out the best place to put it.
And by "best" what I really mean is "least conspicuous." BECAUSE IT IS SO VERY GIGANTIC, MY WORD.
I have to say, though, that over the last day or so things have slowly been feeling a little more normal. We watched the Bulldogs play Thursday night, and I loved every single second (for the record, I made Southwestern Salad and a rotel dip with white cheese – both were tasty). Last night D and I went to see this guy in concert, and it was A DELIGHT. We had such a good time. Right now I'm watching the Ole Miss / BYU game, getting ready to fry up some chicken and looking forward to the LSU / Oregon game tonight. This morning on Twitter I mentioned that I don't know how Les Miles is going to eat grass since he'll be coaching tonight on artificial turf, but I'll tell you what: I'm excited about the possibilities.
Anyway, enough about me. How are y'all? How's your team doing this weekend? Do you have any fun Labor Day plans? Have any exciting naps on the horizon? Any wide stretches of time where you can hang out in your pajamas and spend quality time with your people and hopefully laugh a whole bunch?
A girl has to prioritize, you know.