Well, Sister and I went to the Mississippi State / Auburn game this past Saturday.
Yes. Yes, we did.
And listen. The first six-ish hours of our day were a giant happy rainbow. We left my house around 6, drove straight to Starbucks, fueled up for the trip with some big ole cups of Pike Place, then hit the road. We started driving east just as the sun was starting to peek over the trees, and it made for an absolutely beautiful drive. About two hours later we pulled into The Loveliest Village on the Plains, and since I'd reserved our parking space earlier in the week at one of AU's covered parking decks (EVERY school should have these; I am such a fan), we parked without any problem at all.
The stadium was only about three blocks away, so after a short walk from the parking garage, we crossed the street and saw the site of Saturday morning's SEC battle.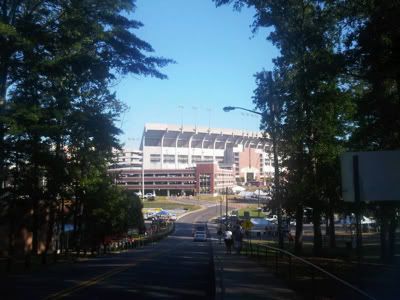 Would you be embarrassed for me if I told you that I was really, really nervous?
Because I was really, really nervous.
But I guess that is totally understandable since I play such a vital role in the Bulldogs' game plan. I mean, I don't mean to brag, but this arm of mine? IT IS AN OFFENSIVE WEAPON. I can throw the football upwards of five to eight and one half feet AT ONE TIME. So clearly the 'Dogs like to use me in 3rd-and-short situations, not to mention during all those plays where they benefit from the distraction of having a player who squeals a lot and kicks up her back leg real purty-like when she releases the ball.
Oh, I kid.
Because y'all know that I really play cornerback. Fred Smoot taught me everything I know.
Sister and I decided that it would be fun to join the other State fans who were going to greet the team buses when they got to the stadium, so we walked in that direction and took in Auburn's gameday atmosphere. Honestly, I was expecting more tailgating than what we saw, but I'll give the Tigers the benefit of the doubt since it was a morning game and all. Plus, whatever Auburn lacked in the tailgating department, they more than made up for with the landscaping.
Do you see all of that perfectly placed pinestraw? The whole campus looked that way, and it was absolutely beautiful. Call us cow colleges all you want, but nobody can landscape like ag schools can. Combine the beautiful surroundings with down-to-earth, friendly people, and you have an atmosphere where visitors are quick to feel right at home. I'll take that kind of genuine hospitality ALL DAY LONG. It makes for a mighty fun day of football.
While we were waiting for the team, Sister and I snapped a picture of ourselves despite the fact that we were both suffering from a terrible bout of the flat head. Neither one of us achieved our hair volume goals when we were getting ready Saturday morning, and I told myself that it was because the Lord wanted us to walk in a place of pre-game humility. My hair was so flat, in fact, that I was almost overcome by hair shame, but I felt better knowing that my flat-headed sister was with me. The Lord never lets us walk through these sorts of difficult times alone, you know.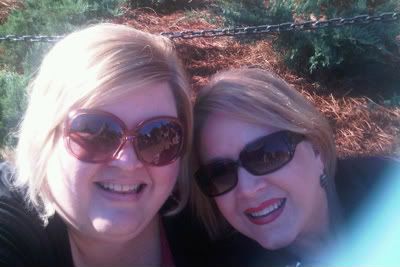 Also, my head is enormous.
Seriously. EPIC.
We headed for our gate about an hour before the game started, but we had a wee small moment of panic before we went into the stadium. I may or may not* have had a cowbell in my purse, and Sister may or may not* have had a cowbell in her purse, and we were worried that our ALLEGED cowbells might be confiscated. We didn't have any intention of ringing our ALLEGED cowbells during the game, but we'd taken them to meet the buses and ALLEGEDLY wrapped them up in t-shirts and put them in the bottom of our purses.
We also allegedly stuffed socks around the clangers so that they wouldn't make any sudden noises.
ALLEGEDLY.
Our concerns were unfounded, though, and we made it through the bag checkpoints relatively unscathed. A few minutes later we found our seats and were pleasantly surprised to find that we 1) actually had really good seats and 2) were sitting in THE BLESSED SHADE. We were so excited about that second thing, and even though we knew we couldn't avoid the sun forever, it surely was nice to know that we had a temporary reprieve.
As the stadium started to fill up we realized that while there were lots of State fans in our section, there were also lots of Auburn folks, and you really never know how that's going to work out. I have to say, though, that we totally hit the Auburn fan jackpot. The people around us were so nice, so gracious, and so understanding of our occasional (and by "occasional," I mean "frequent") need to very vocally support our team.
Like, for instance, when they ran back in the locker room after warm-ups.
The game, in a word, was crazy. Initially Auburn was fired up and State was just flat-out rattled. Eventually, though, the 'Dogs started to find their way. By the end of the first quarter we had us a real-live ballgame, and Sister and I were as nervous as a couple of long-tailed cats in a room full of rocking chairs. By the beginning of the 4th quarter I started to think that the 'Dogs were out of it for good – but then lo and behold we rallied, pulled within 7 and had a chance to tie or maybe even win the game in the final seconds.
But we didn't.
And oh, IT SMARTED.
By the way, the sun was brutal during the second half, and while Sister managed to construct an effective sunshade out of an Alpha Gam fan (courtesy of the sweet family next to us) and an MSU shaker, I was not quite as fortunate. At times I draped the t-shirt that I had allegedly used to conceal my alleged cowbell OVER MY HEAD, but apparently my SPF was no match for the BALL OF FIRE in the sky. My sunglasses, however, were very effective, and that is why my face is now hot pink with the exception of two very large white circles around my eyes.
SASSY.
(*YES MA'AM we had cowbells in our purses. THAT'S OUR HERITAGE, Y'ALL. But we really didn't ring them in the stadium.)
Anyway, even though I have A LOT OF THOUGHTS about how some things went during the game – especially in the second half – at the end of the day none of that stuff matters. Both teams fought like crazy, and in the end, Auburn won.
But did I mention that it smarted?
After the game we walked over to the Student Activities Center so that we could cool off and nurse our wounded pride for a little bit, and about 20 minutes later we decided to walk back to the car. The sun BALL OF FIRE was pounding on us every step of the way, so when we finally climbed in my car, I turned on the air and let it blow full-force for about five minutes before I even made an attempt to back out of my spot. We were BURNING UP – and when we stopped to eat supper on the way home, I am happy to report that I consumed approximately one gallon of assorted liquids. I alternated between water and unsweetened tea, and our poor waitress got a workout trying to keep my glasses refilled.
I believe the word you're looking for is "dehydrated."
All in all, though, it really was a great day. It was a great game. I wish things had gone the Bulldogs' way, but hopefully we'll bounce back this Thursday night against LSU.
Hopefully.
Because I don't know if you've heard, but they are sort of REALLY, REALLY GOOD.
WE COULD TOTALLY WIN, THOUGH.
How's that for optimism?
Go 'Dogs.