Now y'all know that I love me some music.
And today? Oh, it is a VERY GOOD DAY FOR THE MUSIC.
So here are two things that may or may not change your life forever but will certainly make it better in untold wonderful ways.
(Which, now that I think about it, is pretty much the same exact thing as changing your life.)
(Honestly, I don't know why anybody puts up with me. I am a case study in redundancy.)
(And I also say the same thing over and over again, only in different ways.)
Okay. First thing.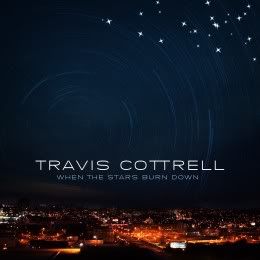 Travis Cottrell's new worship CD, When The Stars Burn Down, is out today, and OH MY MERCY IT IS INCREDIBLE. The word that comes to mind every single time I listen to it is declaration – because that's exactly what it is. It's a strong declaration of who God is, how His love transforms our lives and why He is worthy of every single bit of our praise.
I'm crazy about so many of the new songs. I adore Travis' arrangement of "All My Fountains," and I feel like "I'm Changed" is the story of my life. "When The Stars Fall Down" stops me in my tracks every single time. And on top of all that, I really do believe that "The Word of God Has Spoken" is one of the most powerful corporate worship songs in a long, long time. I've listened to it so much that the other morning the little man asked, "Mama? Why is this song always playing in your car?"
What can I say? I tend to play something over and over and over when it speaks to me. And "The Word of God Has Spoken" definitely does that. Which is why I've listened to it approximately 416 times.
The whole CD is a treasure, and it has ministered to my heart like crazy over the last couple of weeks. Seriously. You have no idea. I really can't recommend When The Stars Fall Down enough, and you can download your very own copy from iTunes. It's absolutely beautiful worship music, and it's chock full of Truth. So, so good.
Y'all are going to love it.
Next thing.
Over the last year Ben Rector has become one of my very favorite singer/songwriters, and his CD called In The Morning was at the top of my "best of" list for 2010 (it is an absolutely brilliant CD, and if you don't have it, you need it). Ben is crazy gifted, deeply talented, and best of all, he's genuinely humble. Not to mention humbly genuine. That's a tough combination to beat, y'all.
Ben has a new CD that's out today. It's called Something Like This, and even though I just downloaded the songs early this morning, I can already tell that I wouldn't have missed this CD for the world. Even at first listen it's full of great, smart pop music with all sorts of wonderful influences (big band, jazz, soul, etc.) that you can listen to with your kids in the car and not be afraid that they're going to add some colorful new words to their vocabulary. It's also pretty swoon-y and romantic in places, and that's so rare these days.
So giddy up, bloggy people.
Great new music from Travis and Ben today.
We're more fortunate than we know.
p.s. Nobody asked me, paid me or offered me free fried chicken to mention these CDs. I didn't get anything for free, and the only reason I got Travis' CD a little early is because we pre-ordered it through Kickstarter. Just thought I'd clarify in case you were wondering. The end.
Enjoy, y'all!