I've known since Saturday that I was going to get to meet our sponsored child today. I was a little surprised that he and his mother would travel so far; they live on the coast, about five hours away from Quito, but the Ecuador Compassion office worked it out. So this morning, before I went down to the lobby, I double-checked Wilter's backpack and made sure everything was in order: a couple of shirts, some books, a Beginner's Bible in Spanish and English, candy, and a host of other little goodies. I took a deep breath, picked up the backpack, and headed to breakfast.
After breakfast I was walking up to the lobby when somebody – Shaun, I think – sort of offhandedly mentioned that Wilter and his mama, Marta, would be spending the day with us. I transitioned from nervous to OH MY WORD I'M SICK AT MY STOMACH in about two seconds flat. Because what if he didn't like me? What if I scared him? What if communication was too difficult since we speak different languages? What if he'd traveled five hours on a bus for the biggest let-down of his life?
Granted, I'm a little tired and was probably giving way to a bout of the SHORT-TERM HYSTERIA, but I don't think I've ever been more nervous than I was before I rounded the corner to where Wilter and his mama were waiting. My hands were shaking, even, and if you're thinking, GRAB HOLD OF THE REINS, GLADYS, you may rest assured that I was repeating some variation of that exact same thing in my head.
So I rounded the corner. And I saw Wilter sitting on a couch. And as our precious translator named Doris introduced us, that little eight-year old spitfire nearly knocked me over with the biggest smile and the biggest hug you've ever seen. And when I pulled away to say, "I am so happy to meet you. I am SO happy to meet you. We pray for you every single night." – well, he threw those arms around my neck again and held tight for about 30 seconds.
It was great, big, wide-open grace. And I soaked in every single bit of it.
We moved over to the couch so that I could show him his backpack, and after a few minutes of conversation, I realized that Wilter's personality is, oh, nearly identical to my little guy back home. My first clue was when I showed him a shirt that I brought him, and he couldn't put it on fast enough. He threw it over his head – right on top of his bright green shirt – and he said, "WOW! WOW! WOW!" about fifteen times in a row.
So I guess what I'm saying is that Wilter and I pretty much bonded right off the bat. It was the sweetest gift, really, to meet a little boy in Ecuador who reminds me so much of my own, and I kept thinking, Well. The Lord just worked that out. He just worked out THAT WHOLE THING.
Oh, don't even pretend to be surprised that I gave him a Mississippi State shirt. YOU SHOULD EXPECT NO LESS.
We hopped on the bus – Wilter, Marta, Wilter's Compassion director, our translator and me – and we had ourselves a mighty fine time. Wilter and his mama had all sorts of questions about my family, about where I live, about what my favorite things are. I wanted to know all about them, too, and somehow a 40 minute bus ride passed by in no time at all.
I know. He's adorable. And his personality is even bigger than that smile.
When we got to our first Child Development Center of the day, the pastor of the church spoke to us for a little while, and Wilter took that opportunity to read from his new Bible.
Whenever he would hear an airplane flying overhead, he would run outside and stare up at the sky until he spotted "el avion" (I know that there should be an accent mark above that o, but that's outside of my skill set at the moment). He wants to be a pilot when he grows up, and planes are a pretty big obsession. So is any sort of ball. Ann had an extra soccer ball that she generously shared with Wilter, and he held onto that soccer ball like nobody's business. He was so incredibly proud of his new "pelota."
After we visited a family's home (more on that in another post), we walked back to a little room beside the church for crackers and Cokes. Marta and I started talking about what we like to cook for our families (like so many of us, Marta is forever trying to figure out what she can do with chicken), and she mentioned that Wilter's absolute favorite meal is pollo frito.
That would be fried chicken.
And I think we all know that at that very moment, Wilter and I hit A WHOLE NEW LEVEL in our sponsor / child relationship.
I was so excited about the fried chicken development that I turned to Wilter and, in my best broken Spanish, I tried my very best to say, "I LOVE FRIED CHICKEN!"
But in the midst of my enthusiasm it came out all wrong, and as Wilter stood there and looked just a wee bit confused, Amanda leaned over to me and said, in all gentleness, "Um, Sophie? I think you just told Wilter that your name is fried chicken."
And y'all, I TOTALLY HAD. I'd said, "Me llamo pollo frito" instead of "Yo amo pollo frito," and as a result I fear I have christened myself with an unfortunate but all too appropriate nickname.
IT'S SO GOOD TO SPEND TODAY WITH YOU, WILTER. MY NAME IS FRIED CHICKEN. NOW LET US ENJOY THIS TIME TOGETHER.
We eventually got back on the bus to travel to the second Child Development Center, and the people there were kind enough to serve us lunch (at another time we will talk about their LIFE CHANGING fried corn). Wilter sat down next to me, and one of the Compassion workers brought over a special treat for Wilter's meal.
I believe the Lord blessed us with a theme for our day together.
I could not ask for more.
The rest of the day was a happy blur. Wilter and Marta were so gracious, so warm, so affectionate, and the very best part is that my family is only at the beginning of our relationship with their family. Wilter is eight now (SMART AS A WHIP, I might add), and I can't see what the Lord has in store for him at 10, 12, 15, 18 – I can't wait to see how his years with Compassion impact him and his family. CANNOT. WAIT.
Because the One who has called him is faithful. And He will do it.
It was a big day. It was a full day. And by the end of the day – well, it was like Wilter and I had been a part of each other's lives for a really long time.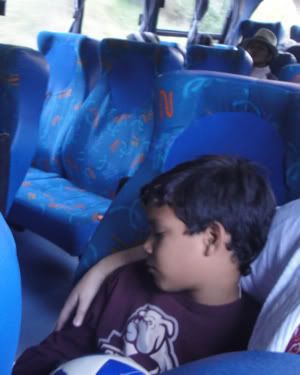 And do you know what I kept thinking?
And we don't need a Wilter so we can pat ourselves on the back and feel proud that we're doing something to help a child in another country. We don't need a Wilter so that we can put a picture on our refrigerator and check "global outreach" off of our church-related to-do lists.
We need a Wilter to remind us that the Gospel is worth sacrifice.
We need a Wilter to remind us that the church isn't going to multiply through building campaigns.
We need a Wilter to remind us that when it comes to discipleship, there's no substitute for a one-to-one relationship.
And I'm so thankful that we can all be a part of joining hands and hearts with the Wilters of the world.
And if you happen to give yourself a sah-weet new nickname in the process, that's just gravy.
Or mashed potatoes and gravy, I should say. In the spirit of the perfect sponsorship side dish and all.
Con much amor,
Pollo Frito
_____________________________________________
Be sure to check in with Melanie, Kelly, Ann and Amanda on the Compassion Bloggers page!