This morning I woke up COMPLETELY REFRESHED after four hours of sleep (disclaimer: the first part of this sentence is not at all true), and after I got out of bed and started getting dressed, I noticed that I was a wee bit – OH, HOW DO YOU SAY? – weak in the knees.
(Sorry. That whole "HOW DO YOU SAY?" thing was a tribute to the lovely Ms. Kathleen Turner. I believe we've discussed her love for the "HOW DO YOU SAY?" before. It makes me so happy.)
Apparently I was responding unfavorably to the altitude (Quito is very mountainous, a fact that was completely lost on me until, well, today), and at breakfast Keely told me that I needed to drink coffee (this is one instance when caffeine is my friend) and lots and lots of water. I didn't really know what to expect in the way of coffee, but I ordered a cup and just have to say this: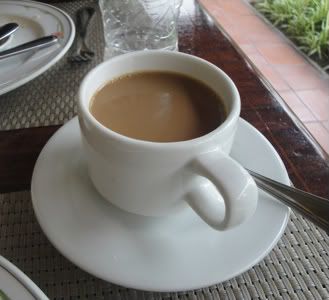 THANK YOU, ECUADOR, FOR YOUR COFFEE.
It is magical and delicious.
However, it is not magically delicious, because, well, that would be Lucky Charms.
After breakfast we hopped on the bus to travel to Cayambe, a mountain town about an hour and a half away. I am notorious for not really thinking things through until I'm in the middle of said things and have no real way of changing the course of action at that point, and that is why, about 30 minutes into our trip, I looked at Melanie and said, "My. My, my, my. Ecuador is very mountain-y. And these roads – well, they are very twisty."
And then I had to quit talking for a few minutes because I wanted to sit back and really enjoy the experience of my entire face turning green. Kelly was having a similar reaction to the twistiness, and I thought that if she and I both were in such poor shape less than an hour into the trip, it did not bode well for the second half of our journey.
Maybe this would be a good time for me to show you a map of our route that I drew this afternoon. I feel that it might be a helpful visual aid.
It's totally true to scale. And you may have noticed that I marked a few milestones on the map. Perhaps I should elaborate.
The first milestone is that Kelly and I were both somewhat ill (I believe I've mentioned that already). But the second milestone is that when we stopped at a convenience store for a restroom break, Kelly and I were the last two off of the bus (what with trying to stand up without wobbling and all), and when we stepped onto the parking lot, THERE WAS A BULLDOG THERE TO GREET US.
A REAL-LIVE BULLDOG!
And get this: I WAS WEARING MY MISSISSIPPI STATE RAIN JACKET.
Listen. If I'd had my cowbell with me, it might have been the happiest moment of my entire life.
The combination of the bulldog and the fresh air worked wonders on the car sickness, and when we hit the road again, we decided that a snack was in order. Kelly opted for the Ecuadorian Doritos, and when I saw the bag, there was no way that I wasn't taking a picture.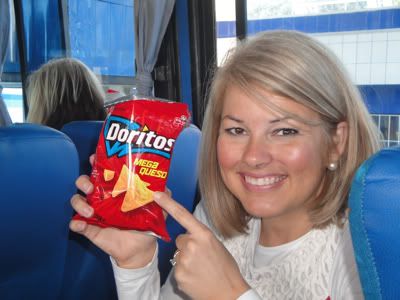 Mega Queso. If you ask me (which, granted, you didn't), the world needs more Mega Queso. And I think I just may try to order some Mega Queso the next time I'm at Chuy's.
After the bulldog and the Mega Queso, I felt the day had already far exceeded my expectations, but then there was a little something called the Equator.
We only had about two minutes to take in all the Equator goodness, so it was all very Griswold-esque. But still: THE EQUATOR. Not exactly a normal stop when I'm running my Monday afternoon errands at home, you know?
Our next stop was Cayambe. And that, my friends, was the hands-down highlight of the day. No question at all.
Cayambe is a beautiful little town situated on the edge of a mountain, and we went straight to the church that ministers to the kids at the Happy Face Child Development Center. It was so neat to hear how they're serving their community, and they told us that out of the 400 kids they serve, about 100 of them don't have sponsors yet. The church even started another branch of their Compassion project to serve an additional 100 kids at the top of the mountain. Many of those children still don't have sponsors, so their expenses are covered through Compassion's Unsponsored Children Fund. Their care doesn't differ in any way, but they're missing that one-to-one relationship with a sponsor.
After we heard from the church's pastor, we split into groups and traveled to three different parts of Cayambe. Kelly, Patricia and I rode in the back of a pick-up (OH YES MA'AM WE DID) to visit a precious family where three of the seven children are sponsored by Compassion. Compassion normally has a one child per family sponsorship policy, but the poverty in this part of Ecuador is so extreme, so profound, that they've made an exception to the general rule.
The nine members of this family live in a cinder block home with no indoor plumbing, and while they do have bedrooms, they don't have mattresses. They sleep on pieces of plywood, and the kids' rooms don't have any lighting at all. Despite the difficulty of their circumstances, though, this family has hope. This family has Hope.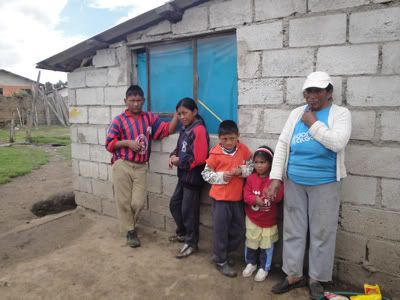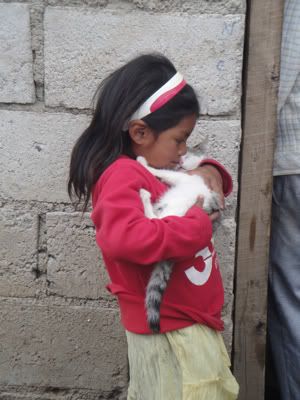 The mama's name is Rosa Maria (which I loved since I have a sister-in-law whose name is Rose Marie), and she told us about how Compassion offered counseling (through the local church) to her and her husband when they were going through a difficult time. She told us about how one of her sons – who doesn't have a sponsor, by the way – was starting to act out and rebel at school, and the people at the Child Development Center stepped in to help. She told us about how she dreams that her children will have professional jobs one day, how she gets up at 4:30 every morning so that she can cook breakfast for them before they start walking to school at 5, how she would love it if each one of her children could have his or her own bed – and a mattress for that bed.
She's a mama who wants God's best for her children. Just like you. Just like me.
At one point during our visit we walked to the back of the home, where the family owns a small plot of land that's adjacent their grandfather's land. The soil was rich, the land was tilled – but the family hadn't finished planting all of their seeds. A staff member from the Child Development Center asked us if we'd like to help, so Kelly, Patricia and I each grabbed a handful of corn. We'd turn over a section of soil, drop in four pieces of corn, then walk another foot and repeat the process. We did this over and over for about half an hour, moving from row to row, visiting with Rosa Maria and her children as we planted.
And on the third or fourth row, I looked down at what we were doing, and I thought, This is it. THIS IS IT.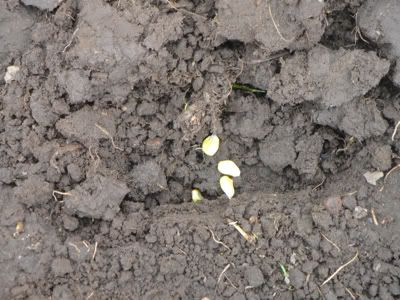 Barring something totally unexpected, I'll never witness the harvest of those seeds.
But.
I'm no less invested in the outcome just because I may not see it in person.
It dawned on me that child sponsorship through Compassion works in a similar way. A sponsorship plants seeds in a child's life – access to good medical care, provision for school supplies and uniforms, love and care from committed staff members at the local Child Development Center, healthy meals at the CDC several times a week – and then the local church waters those seeds through discipleship. The staff of the local church will share the Gospel with that child through their words and through their actions – and in all these things the Lord is working to gather a harvest of believers in the next generation.
And while we may not see our sponsored child(ren) in person, we still get to have that one-to-one relationship with them. We get to write to them (and they write to us!). We get to invest in their lives, to share Jesus with them, to pray with them as they grow up into the men and women that God created them to be.
Those seeds are for their good.
And those seeds are for His glory.
There are so many ways that you can sponsor a child through Compassion. You can sponsor a child at the Child Development Center we visited today (and based on what we saw today, the needs in that community are huge). You can also sponsor a child in Ecuador who's been waiting for a sponsor over six months (there are over 700 children in Ecuador who have been waiting that long). OR – you can sponsor a child in the country of your choice.
Every single one of those children deserves someone who cares enough to plant the seeds of sponsorship into his or her life.
And one day – Lord willing – there will be a harvest in that child's life that will last for eternity.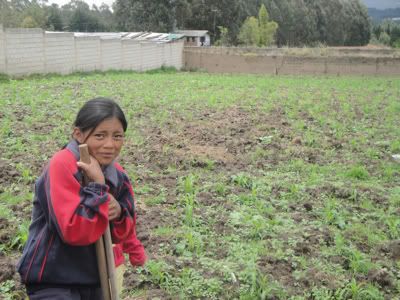 It's worth it, y'all.
It really is.
____________________________________________
Be sure to check out the posts by the other bloggers on our team – see y'all tomorrow!