Well, I accomplished some goals over the weekend.
First of all, I addressed all of our Christmas cards Saturday morning. You might not think that's a big deal, but the Christmas cards snuck up on me this year. It was only last Thursday afternoon when I thought, "WAIT! HOLD ON! MUST TAKE CHRISTMAS CARD PICTURE," at which point I called the young'un to the den, asked him to stand in front of the tree, snapped approximately three pictures with my phone and then called it a day for Christmas Card Photo Shoot 2011.
It was pretty much the polar opposite of 2003 when we gingerly laid a blanket on the beach at Gulf Shores and then did our level best to fill up the camera's memory card in the hopes of getting the perfect shot.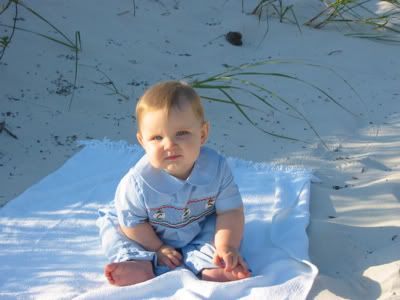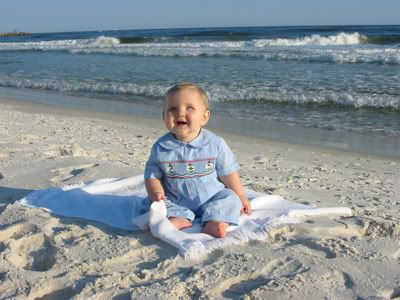 This is just a small sampling, of course, but CLEARLY THEY WERE ALL SO DIFFERENT.
After I finished addressing this year's envelopes, I patted myself on the back and then headed out to do a little Christmas shopping since I was looking for a way to really wind down and decompress on a beautiful Saturday afternoon. After all, what could be more relaxing than sitting in bumper-to-bumper traffic and then navigating jam-packed parking lots? It was like a day at the spa, really.
I have to say, though, that it could have been a lot worse. The traffic was terrible, but I managed to cross off the bulk of my to-do list and afterwards I got to go out for Chinese food with my people. I've never really considered the egg roll as a reward for a busy afternoon of Christmas shopping, but after our exceptional egg roll experience Saturday night, I am definitely of the belief that YES. THE EGG ROLL IS A REWARD.
On top of all that, yesterday was about as relaxing as a day can be. After church we grabbed some lunch and then went to the grocery store to get a few things for supper (that's how things go in the South, you know – we finish one meal and immediately start planning the next). More than anything I wanted to be able to STAY PUT once we got home, so I actually didn't mind planning supper five minutes after we put down our forks at lunch. I had a greater good in mind, and that greater good involved putting on some pajamas and settling in for an afternoon of quality time with the DVR.
Hallelujah and amen.
My plan was totally successful, and as a result I am happy to announce that I am completely caught up on Revenge, Modern Family, Top Chef and Survivor. You can't even imagine how much better I feel now that a considerable portion of my TV burden has been lifted. Granted, I'm likely to confuse plot lines if anyone asks me for details about any of the aforementioned shows, but I think it's slightly plausible that Padma Lakshmi, in an attempt to avenge her father's death, moves to a remote island with her son, Manny, and tries to punish her Hamptons neighbors through a series of high-pressure cooking challenges that are hosted by Phil Dunphy.
Makes total sense to me.