1. An early-morning catch-up conversation with Emma Kate
2. A mid-morning catch-up conversation with Melanie
3. Listening to the little man's class sing Christmas songs
4. Knowing that there's a little breathing room schedule-wise this week, OH PRAISE THE LORD
5. A very fun lunch with a very fun friend
6. The softest, coziest scarf ever – I have decided that it's going to be my grown-up version of a blankie
7. Putting stamps on all our Christmas cards while I sat in the waiting room at the dentist's office
8. Laughing with Sister about some funny Mississippi expressions
9. A husband who sat down in the middle of the bedroom floor to listen to me talk about my day
10. Beautiful branches with berries (thanks, Alison)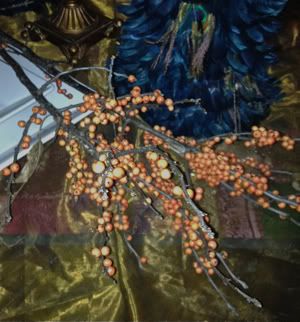 11. A blog post by someone I've never read before – and who I'll definitely read again
12. Talking to my friend Elise on the phone and laughing so hard that I had to stomp my feet
13. Remembering Proverbs 29:25: "The fear of human opinion disables; trusting in God protects you from that."
14. Watching last night's episode of The Next Iron Chef
15. This room on Pinterest
16. Strawberry Orange Banana Crystal Light – it is deeeeeee-licious
17. Realizing that when some days feel a little more gray than others, God sometimes uses sweet friends to be the sunshine.
I've been so grateful for that sunshine today.
What are some happy moments from your day?