Well.
Saturday morning our crew of three woke up and headed to Mississippi so that we could celebrate Christmas with D's side of the family. I was sort of annoyingly excited about it because over the last couple of years I have discovered that I am a person who enjoys having Plans At Christmas. I used to think I was a person who just wanted to roll with it and be all devil-may-care-ish at Christmas, but then there was The Unfortunate Holiday Season of 2009 where we didn't get to see any of our family on Thanksgiving, Christmas Day or New Year's.
Needless to say, The Unfortunate Holiday Season of 2009 TAUGHT ME SOME LESSONS. And now? I make a point to map out a Christmas plan. We don't need a calendar filled with mindless activity, mind you, but I have discovered that it's good (for me, at least) to have a reason to fix my hair and put on a little make-up and interact with other humans. Cold, gray weather tends to put me in a funk, and I do a better job of fighting the funk when I'm surrounded by happy people and good times and the occasional cream cheese-laden appetizer.
Apparently my emotional needs tend to err on the side of simple.
Our first Mississippi stop was Martha's house. You will not be at all surprised to learn that she greeted us wearing one of her favorite jackets, only this time it was a cute gray one (but not as cute as the one she found at Hudson's Treasure Hunt! because it's just the cutest! and it looks like ostrich! and it's just so cute can you even believe how cute JUST LOOK HOW CUTE IT IS!). Martha hosted three dessert parties last week – each for a different group of friends – and so she regaled us with tales of the dessert parties and who was there and what they wore and how much fun they all had.
Listen. I don't know what the 70- and 80-something set is up to in your hometown, but in my hometown, they are DECKIN' SOME HALLS.
After we visited for a little bit we went out to lunch with Martha and David's brother's family. We had a great time, then went back to Martha's to exchange presents. We knew that Scott and Rose were giving Martha a Kindle, so one of her presents from us was a gift card from Amazon. Her other present from us was a little something I picked up in Steinmart because I thought it might be a fun alternative to Martha's beloved jackets.
Yes indeed. We got Martha a poncho. And considering that she put it on as soon as she took it out of the box and continued wearing it for the duration of our visit, I think she was a fan.
She was also a fan of her Kindle, but I think it's going to take a little practice before she's completely comfortable with it. I say that because when we left her house late Saturday afternoon, Martha was tapping the screen to turn the pages with such vigor that I feared for the Kindle's well-being. It reminded me of when D and I were first married and the cashier at the Walgreens near our house poked the keys on the cash register so hard that I worried she was going to knock the keyboard off of its pedestal. She'd look over her reading glasses, dart her eyes this way and that as she tried to find a 7 or a 3 or a 9, and when she finally found it, she'd practically punch whatever number she was looking for. It was almost like she thought she was playing Whack-a-Mole and needed to smack the number before it got away from her.
So that? Is pretty much Martha with a Kindle.
It really was such a fun visit, and on the way home we decided to stop for supper in Livingston, Alabama. Scott told us that we needed to try a restaurant there, and he raved so much about it that our curiosity wouldn't let us pass by the exit without giving it a try.
Y'all.
I'm gonna tell you what.
If you are ever on I-20 and wondering if there is anywhere to get a good steak near Livingston, Alabama, I am here to tell you that the answer is YES, A MILLION TIMES YES. I should've known that any place called Diamond Jim's & Mrs. Donna's was bound to be good, but I was not prepared for how out-of-this-world delicious their steaks would be. However, I suspected that I was in for a treat when I first sat down at our table.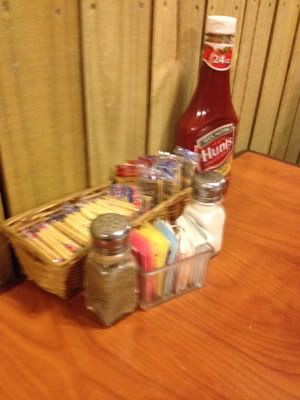 I haven't done any sort of scientific poll, but restaurants that leave crackers on the table almost always have the best food. It's as sure as the sun.
And as an added bonus, Diamond Jim's also served some mighty fine fried dill pickles.
The fried pickle spear is a little bit of a step-out in this part of the country; we usually favor fried pickle chips. But OH. The fried pickle spears at Diamond Jim's were delicious, and I'm pretty sure that at least part of the batter was bread crumbs. Delightful, they were.
After supper we rolled back to the car and finished the last leg of our trip. I figured that we had probably exhausted most of our weekend fun, but Sunday after church some old friends who were in town came over for lunch. It did our hearts good to get to spend the day with them, and it was so pretty outside that the kids ran and played in the backyard for, no kidding, about four hours straight. It was a 'bout-near-perfect afternoon.
So that's what's going on in our neck of the woods. I'm about to make a big batch of these super-addictive crackers, and then I may play a little bit of a new hidden object game that I downloaded last night. So far it hasn't sent me into a spiral of obsession quite like my beloved Dire Grove did, but I'm optimistic that it's going to be a good 'un.
I'll be sure to keep you posted. Between my new game, Martha's new poncho, and my new favorite Alabama steakhouse, I have to say that the week is shaping up nicely.
Merry Christmas, y'all.