I'm not gonna lie. Things have been just been a little hectic around our house lately. In fact, last Wednesday I decided I was going to drop all pretense of being able to handle everything that's going on right now, and after the little man was asleep my poor husband listened patiently why I rattled off all the reasons why I can't juggle everything that I'm currently juggling because, well, I AM NOT A VERY STRONG JUGGLER.
Don't get me wrong: I love to be productive, and I'm so grateful for my work / writing / other commitments, but every once in awhile I start to dream of days upon days upon days of sitting on the couch in my pajamas, not to mention that there's a whole new season of The Real Housewives of Orange County starting in a few days and I would really like to be free to dedicate more time to that because I understand that Gretchen and Tamra are friends now. And yes, even though that runaway train is no doubt going to jump the tracks before the season is over, I would sort of like to climb on board and pretend for just a few weeks that watching reality television is my job and at the very least maybe take a nice nap or two along the way.
So.
You know.
There's that.
I have to admit, though, that there's been a whole lot of happy weaving in and through all the busy. Last Thursday I discovered that The Fray's new CD was streaming on iTunes (the album comes out tomorrow, at which point the streaming, it will cease), and I'm completely obsessed with it. It's so great, in fact, that I looked into getting tickets for their show that's coming up in Atlanta, but when I saw that the only tickets available were general admission, I backed off that idea, mainly because Mamaw here needs a reserved seat. If I had to stand in the middle of a teeming mass of 20-somethings jostling for the best view of the stage, odds are that I'd probably pop my hip out of its socket, not to mention that I'd run the risk of spilling my Ensure all over my fellow concert-goers. So I'm thinking that it's probably better to just stay at home.
I've also had a whole bunch of fun with my people – they are so great about rolling with everything and making me laugh when work stuff and writing stuff start to err on the side of crazy. There's an eight year-old in this house who's so over the moon crazy about his daddy right now that I occasionally feel the need to put a twist on the Star Wars tradition and wake him up by saying, "Good morning, my son. I don't know if you remember or not, but I AM YOUR MOTHER." On one hand seeing the little guy with his daddy completely melts my heart and tickles me to absolute pieces, but on the other hand I kind of want to gather him up in my arms and stick my nose in his hair and sway him from side to side like I used to do when he was a baby.
But that wouldn't really work because 1) I would throw my back out and 2) have you smelled an eight year-old little boy's hair lately? It is not always so pleasant. Regardless, I love my boy. And I love how he loves his daddy.
Now. Let us talk of carefree things and have some show and tell. I think you'll find that these pictures will make you feel really good about your organizational and housekeeping skills. At least compared to mine.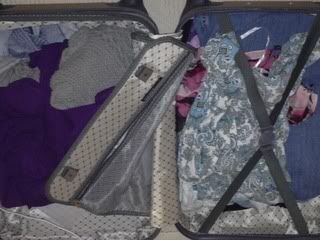 This is my suitcase from the trip to Houston. I unpacked it last week. Approximately 10 days after I returned from said trip to Houston. Sometimes I tend to move at a leisurely pace where pesky bits of follow-through are concerned.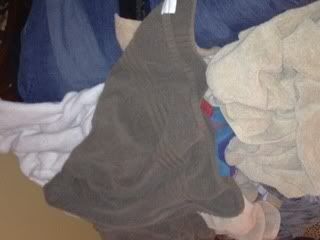 This is a pile of clean towels on the bed in our guest room. I did fold them eventually. But now there's another big pile of clean towels on the bed in our guest room. If you know of a laundry fairy, I would very much appreciate it if you would pass along her number. She could really fulfill her calling here.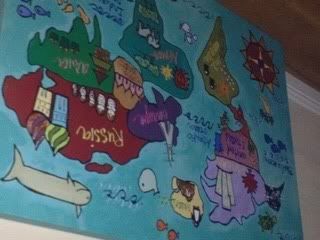 This is a map that my Sister spotted in HomeGoods over Thanksgiving. She pointed it out to me because she thought I'd like it, and I liked it so much that I bought it. Isn't it whimsical and kicky and fun? The problem, however, is that I can't decide where to put it, and that is why it has been propped up next to the wall in our hallway for the last two and a half months.
TWO AND A HALF MONTHS.
If you know of a map hanging fairy, I would very much appreciate it if you would pass along her number.
This picture represents what I feel is the dominant organizational structure in our home right now: set out a bowl, then put some stuff in it.
As you might imagine, our current organizational structure is somewhat lacking. However, it is nice to know that there's a purple marker, a tube of ChapStick, and two different varieties of gum in the same bowl. IT ALL MAKES SO MUCH SENSE.
A sweet friend sent me these flowers about two and a half weeks ago. They are still so beautiful. And as you will notice, they are flanked on the right by A Bowl With Some Stuff In It. We are consistent with our preferred methods of inefficiency.
So that's what's going on around here. It's not the strongest housekeeping season of my life. It's one of the busiest work seasons of my life. But thanks to the people who are in my life – and thanks to the very good God who put them there – it's one of the richest and sweetest seasons I can remember.
Funny how that works.
Happy Tuesday, y'all.