There's a restaurant here in Birmingham that serves what is, in my opinion, the best chicken salad on the planet. I'm not the only person who recognizes this restaurant's chicken salad supremacy; in fact, the last time I was there with a couple of my out-of-town friends, they said really enthusiastic things like, "OH MY WORD THIS CHICKEN SALAD IS DELICIOUS" and "YOU WERE NOT KIDDING ABOUT THIS CHICKEN SALAD."
It is awfully tasty.
But about a year ago, I went to Chicken Salad Heaven (alas, that is not the restaurant's real name, but it would be an appropriate name nonetheless) with my friend Leigh, and I realized that I wasn't in the mood for chicken salad. Not being in the mood for chicken salad has only happened to me maybe three other times in my life, so it took me a moment to process this strange and confusing development. However, after I looked at the menu for about 30 seconds, I knew exactly what I wanted to order instead of my regular chicken salad plate: The Cheese Plate.
And that cheese plate?
Well, it may have changed my life.
When the cheese plate (or, I should say, The Cheese Plate) arrived at our table, the first thing I noticed that it was gorgeous. There were four or five varieties of cheeses – some sharp, some mild, some soft, some creamy – along with a beautifully arranged assortment of crackers. I had so much fun trying this cheese with that cracker, figuring out what combinations worked best – it was like the happiest little food experiment ever.
And yep, I really did write that last paragraph. And you know what else? I MEANT IT.
SO, ever since that fateful day at Chicken Salad Heaven, I've had a renewed appreciation for cheese and crackers. I've been a little cuckoo for cheese and crackers, to be perfectly honest. The only problem is that my husband and my child do not share my affinity for the cheese and crackers combo, and unfortunately they do not consider cheese and crackers to be the most delicious supper in the history of all suppers. It would make meal planning so much easier if they did. As you might imagine, I am praying that we will be able to work through our cheese and crackers differences and trusting the Lord to fill our gaps.
Even still, there have been a few times recently when my cheese and crackers cup has overflowed, so to speak. Weekend before last some friends and I had a little girls' night in, and would you look – JUST LOOK – at the bounty we enjoyed?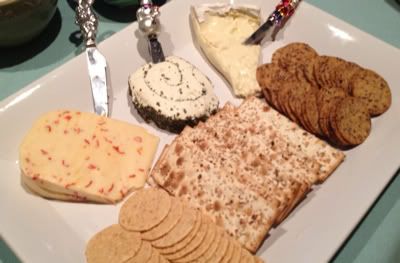 (I apologize for the seasonal cheese spreaders. I was experiencing an unexpected spreader shortage.)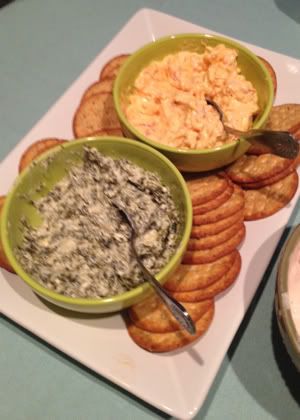 (Yes. I know that is spinach dip. And I know that spinach dip isn't really in the cheese family. But I felt that we needed a vegetable in the midst of all that dairy.)
Y'all. It was all so delicious. There were about four crackers and six little bites of cheese left at the end of the night, but other than that, we SHUT 'ER DOWN. I could clap my hands just thinking about it.
And because I am a total nerd when it comes to crackers, I took a picture of some of my favorites. I keep these on hand pretty much all the time. I would hate to be unprepared in the event of a crackers emergency.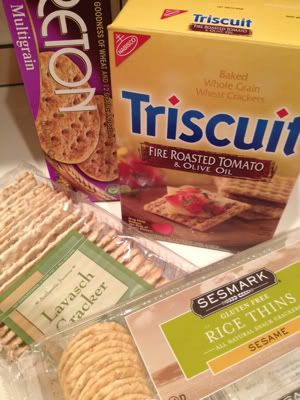 My favorite variety of the Lavasch crackers is Everything – oh my goodness they are a treat. I accidentally picked up sesame the last time I bought them, and the sesame will do in a pinch. But the Everything – well, as Rachel Zoe might say, it is everything.
I also love the herb Mary's Gone Crackers (they might be my all-time favorite), but they're not in the picture because, well, I finished the box that we had and now I need to buy some more.
As far as cheese goes, here's what I like: all of it.
What about y'all? Are any of you fans of cheese and crackers? And even better: do you have any cheese and/or crackers suggestions?
(Just thinking about comments devoted solely to cheese and crackers makes me so happy.)
(Is that weird?)
(Please don't tell me if it's weird.)
(But I'm pretty sure that it's weird.)