My friend Annie's most recent post is so good. Chock-full-o-wisdom for teenage girls. And for 20-somethings. And for any-somethings, really.
2. Lisa Leonard pearl by pearl earrings
I think these earrings are the perfect blend of modern and traditional. You could wear them on your wedding day, or you could wear them with jeans and a cute t-shirt. Love.
3. Otterbox Defender iPhone Case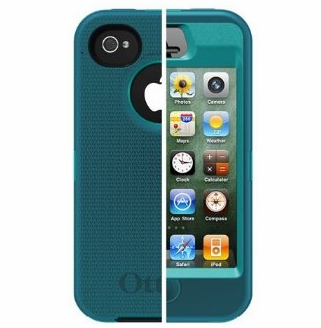 I'm one of those people who thinks the trouble that we'll go to to protect, you know, OUR TELEPHONES is sort of ridiculous. But when we switched cell phone providers and got new phones a few months ago, I realized that my tendency to drop my phone + a fragile phone = a need for a good cell phone case. I asked D to order me the heavy-duty case of his choosing – just to please get it in turquoise if he could.
I thought that the turquoise might make me feel better about turning my cute new phone into a glorified vinyl brick.
I have to say, though, that I have adored my heavy-duty Otterbox Defender case. It's very grippy, so it makes the phone easy to hold, and the grippy stuff also keeps the phone from sliding around on my desk or passenger seat or wherever. There's also a protective screen that goes on top of the real screen, so there's no risk of the phone getting scratched up in my purse. AND, when I *may* have accidentally dropped my phone on our garage floor a few weeks ago, I picked it up – fully prepared to see all manner of shattered glass – and the phone was totally fine.
Otterbox, you've made a believer out of me.
4. OPI I Have A Herring Problem
I have worn all sorts of gray polish the last six months. Gray with a touch of green? Check. Gray with a touch of brown? Check. Gray with a touch of purple? Checkity check check.
I'm a little gray'd out. So when I saw this shimmery dark blue the other day, I thought it looked like a fun change-o-pace. I'll let you know how it goes after my next trip to the nail salon.
5. Ben Rector – "I Wanna Dance With Somebody"
Like most people, I was so sad when I heard the news about Whitney Houston's death a couple of weeks ago. I have loads of great memories associated with her music – which is why this Ben Rector video made my heart smile.
Have a great weekend, y'all.