A little over a month ago I was reading Paige's blog when I saw a picture of a custom sign that a couple from Athens, Georgia made for her kitchen. Paige had the sign personalized with one of her favorite quotes, and as I read Paige's post and pondered the wonderfulness of that big ole wooden sign (it's 4 ft. by 2 ft. – BIG), a thought began to crystallize in my mind: OH. I'VE GOT TO GET ME ONE OF THOSE.
I thought long and hard about that sign for the rest of the day. I really loved the idea of using a quote that's special to our family. Plus, the last six months have been sort of a crazy adventure in more ways than one, so I figured that if the sign also served as a sweet reminder of this particular time of our lives, then all the better.
I had the best time thinking of quotes and/or verses that might be fun to use. Once I narrowed down the list, a quote from Peace Like A River was the early frontrunner, but then I remembered that when Alex and I read The Lion, The Witch, and The Wardrobe a couple of years ago, there was one section particular that left me so choked up that I could barely read.
And when I remembered that quote? I ordered our little family a sign. Oh yes ma'am I did.
Last Monday I walked in our front door after my night-o-writing at a hotel, and I was tickled – TICKLED, I tell you – to see a very big cardboard box in our foyer. Alex and I opened it, and y'all, I really could have cried. I love our sign so much. And my hope is that the sign will be passed down in our family for many generations to come.
And now, if you sit on one of our sofas and look in the direction of the front door, this is what you see.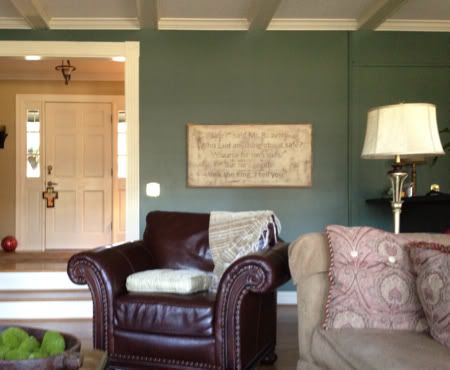 (Except that it wouldn't be blurry in real life.)
(I just happen to have some crackerjack photography skills.)
(Also, it's now a smidge higher on the wall because I felt like it needed to be above the light switch.)
(I may change my mind tomorrow, though.)
After D and I hung the picture, the little man stood in front of it for a little while. After a few minutes he said, "Mama? That's a quote from The Lion, The Witch and The Wardrobe, isn't it? Thanks for having that quote put on there. That means a lot to me."
Oh my goodness it made me smile.
If you'd like pricing and shipping information about a sign of your own, email Andy and Tara at andrewshanelowry@gmail.com. If you mention BOOMAMA in the subject line of your email, they'll give you 10% off your order during the month of March. That's mighty sweet of them, I think.
And I speak from experience when I say that your sign will bless your heart every single time you pass it in your den or hallway or kitchen or wherever.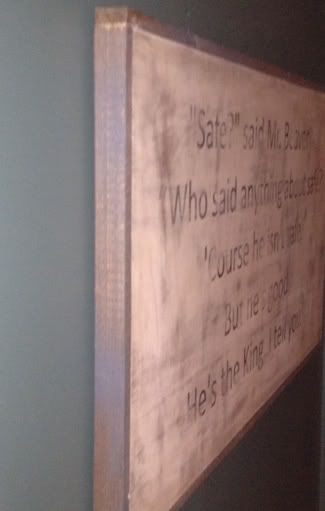 (Just trying to give you an idea about what the sides look like.)
(I apologize again for my sub-par photography.)
(Be sure to let me know if you'd like for me to photograph your wedding or other special events.)
We are crazy about our sign, and you will be crazy about yours, too. Let me know if you decide to order one!
Happy Thursday, y'all.