So here's what we've been doing.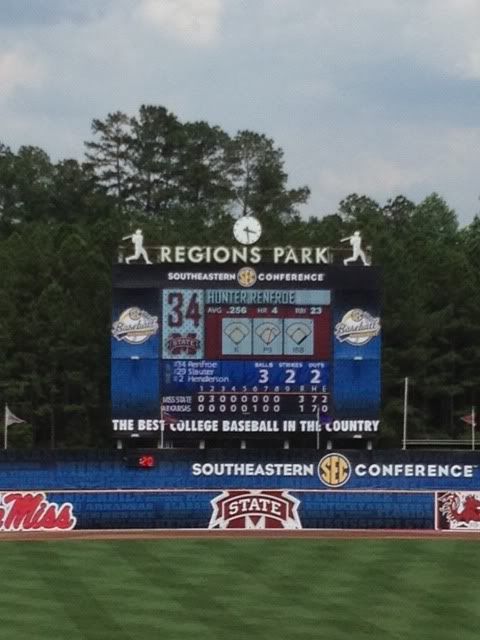 I mean, we haven't been just staring at a scoreboard.
But we have been watching the Bulldogs play in the SEC Baseball Tournament this week. And I don't want to overstate it, but so far it has been THE MOST fun. We've run into friends from Birmingham and friends from my hometown – and today Emma Kate and her kids drove over for the game. We hollered and cheered and clapped and laughed our heads off, and it was exactly like college except for the fact that we are almost 20 years older and we answer to "Mama" and we no longer regard the hair bow as our favorite go-to accessory.
Oh, we had ourselves a fine time.
I never have really high expectations for the tournament (though State fans do love themselves some baseball), but yesterday we beat Arkansas, and today we beat LSU, the #2 team in the nation. It was delightful. Tomorrow we play Kentucky, and if we win that game, we won't play again until Saturday. I say all of this like I have a real understanding of how the bracket works, but I have had to consult about 7 different sources to make sense of it all. The bracket reminds me a little bit of when Joey Tribbiani auditioned to host Bamboozled, but I think I understand it better now, and the gist of it is that WE NEED TO KEEP WINNING ALL THE GAMES.
Thanks to Neutrogena SportFace SPF 70 and mainly sitting in the shade, I've managed to avoid any tournament-induced sun poisoning, and I'm just as tickled as I can be about that. It's always a good thing when you meet your personal free-from-sun-poisoning goals.
So what about y'all? What's going on with you?
And most importantly (though a completely different subject), what do you think about the American Idol results?