I mentioned last week that I've been in "spruce up" mode as far as our house is concerned. This mode seems to hit me about once a year, and it's usually accompanied by numerous trips to HomeGoods and no small degree of standing in front of various pieces of furniture and staring off into space.
It's a very precise, scientific method.
One of the living room dilemmas that seized my attention last week is that we have a large, gigantor, enormous coffee / cocktail table that sits smack-dab in the middle of the room, and sometimes I wish that there was something a little less, um, LARGE in its place. Plus, since it's so big, its surface area tends to stay covered with remotes and books and whatnot, and that drives me even crazier than the size of it. So, I looked around on Pinterest and found a couple of replacement ideas that intrigued me – but they cost more than I wanted to spend. I found a great-looking table on Joss & Main, but it was sold out, so I decided to scrap the whole idea and give up and FINE, FORGET IT, THE SPRUCING UP IS OVER.
While I was sulking about my new table plans being RURNT, JUST RURNT, I thought about a coffee table that was sitting under the windows in my bedroom. D bought it when he was fresh out of college, and while it's real wood and rock-solid and all that, I never cared for the light oak stain and the utilitarian look. Even still, we've always found a place where we could use it, and for the last two or three years it's been sitting next to a couple of chairs in our bedroom. I've never thought about giving it a make-over because using it always felt temporary; plus, it didn't really strike me as something that fit into the over-all look of our house.
Last weekend I off-handedly mentioned to D that I was thinking / pondering / considering / activating a prayer chain about maybe re-purposing that table, and much to my surprise, he was all for it. I thought he might object to putting paint on top of that real-live wood, but he told me about sixteen times that it didn't make a bit of difference to him if I painted it / stained it / sawed it in two if I thought that I could really use it.
(I couldn't help but think of our first year of marriage when I asked him 95 times if we could please buy a TV armoire to replace his black laminate entertainment center – complete with smoked glass and magnetized doors – and he honestly couldn't fathom why I minded that the bottom door liked to fall onto my toe every third time that I opened it.)
(We've come a long way in fifteen years.)
When Sister arrived on the 4th, I barely gave her a chance to sit down before I started talking about all the little projects I had in mind. The first big thing was picking out fabric for new pillows in the living room (more on that in another post), and the next big thing was D's old coffee table – and what we might be able to do in the way of a make-over. Once those two topics were out of the way, I segued into I DON'T THINK I LIKE WHERE ANYTHING IS DO YOU THINK WE COULD ANGLE THE RUG AND I REALLY WISH I COULD MOVE THE FIREPLACE, AMEN.
Really, the best thing about me is that I'm so even-keeled and rational.
Initially our plan was to move the big coffee table out of the room and replace it with a re-made version of the smaller one. BUT, over the course of a couple of days – after talking and shifting and moving some furniture around – we realized that the smaller table was completely dwarfed by my sofas. Looked like dollhouse furniture. For better or worse, that area by the sofas needs something bigger and chunkier there. Clearing all the books off the big coffee table's glass top helped to create some much-needed visual space, though it still left us with one final question:
What in the sam hill are we going to do with all of these books?
And that, my friends, brought us back to the smaller table, Pinterest, and my sister's mad carpentry skills.
(I should add that taking books out of the living room is not an option in this house.)
(Because books multiply in this house.)
(And I have to have somewhere to stack all the books that are currently in rotation or I will start throwing said books through the windows.)
(Seriously. They're everywhere.)
(So what I'm saying we decided that some sort of library table would be a great option. Nothing for permanent storage – just a place for the books to rest in the living room while they're being referenced and/or read.)
(And if there was any way to wrangle a little extra storage out of said table, all the better.)
(I have officially over-parentheticaled myself.)
Here's the before picture of the aforementioned utilitarian coffee table.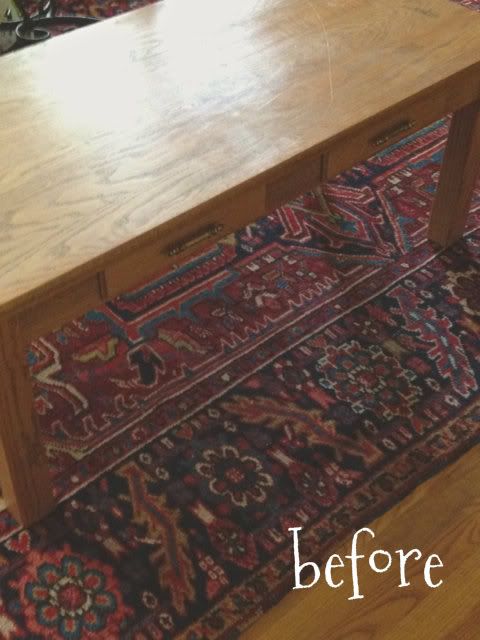 Only took me about 850 words to get to the first picture. That is some serious wordiness, my friends.
Sister and I talked about what sort of look I wanted to achieve in the end, and we made a trip to Home Depot for all of our supplies. I can't take any credit whatsoever for getting the right stuff, but Sister knew exactly what we needed: a cut piece of wood, casters, screws, washers, and paint.
Once we got home, I rounded up the drill, then spent the next couple of hours lending moral support. That's all I seem to be able to do when any sort of assembly is required.
Sister, on the other hand, got after it.
She drilled holes in the center of each coffee table leg.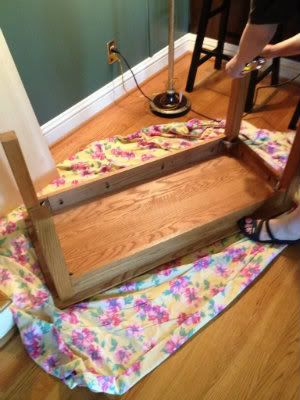 And after she drilled holes in the new piece of wood (she'd measured and lined it up with the coffee table legs), she used screws to attach the wood to the table.
Then she attached casters and flipped over the table. I helped with the flipping, but for all intents and purposes, that was the finale as far as my helping was concerned.
Next she added the first coat of paint.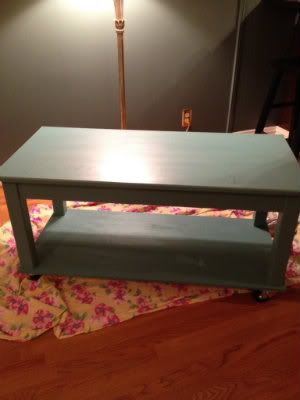 I know. The light was lacking.
But here's the final product, and y'all, I love it (thanks, Sister!). In addition to giving us storage (basket on the left is for all our emergency stuff – weather radio, flashlights, etc. – and the basket on the right is home to the little man's DS, games, and charger), it gives me a place to put some books. Plus, it fills up what has always been dead space in our living room, so I feel like I've gained a new little area.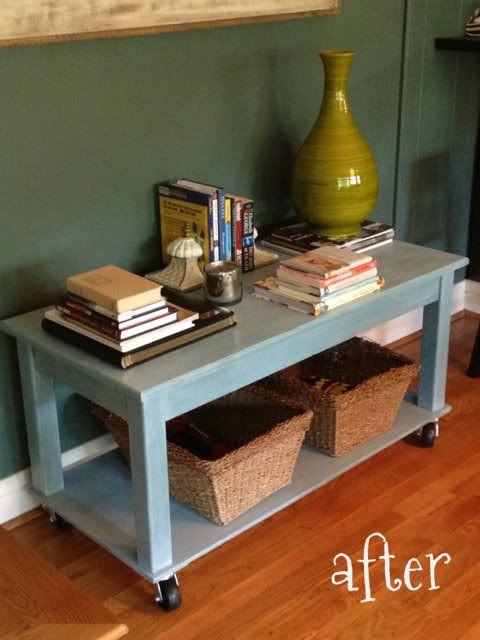 I sealed the table with two coats of polyurethane. I added the books and baskets after it dried, and then I just smiled and smiled. I would've never, ever believed that D's old coffee table could look so much better – and add so much function to our living room at the same time.
I'm tickled, I tell you. TICKLED.
And I'm now free to stand in front of other pieces of furniture and stare off into space before I make a few more trips to HomeGoods.
Hallelujah.