Listen. I don't know what's wrong with me.
But this morning, around 11 or 11:30, I was checking my email and minding my business and listening to the little guy laugh with our next door neighbor, and out of nowhere I thought, I kind of feel like painting the kitchen cabinets.
And then I looked around like Who? Who just said that? Who would suggest such a thing? STOP IT WITH THE CRAZY TALK ONE TIME.
So y'all know what I did. I listened to the crazy. And then I hopped in the car and drove to Sherwin Williams and bought myself a quart of paint.
Oh, sweet fancy Moses.
But here's the thing. When I repainted the cabinets three years ago, I never did love the color. I liked it fine. I appreciated the fresh coat of paint that made everything look cleaner and more updated. But the color was way more mint-y than I thought it would be, and I sort of had my heart set on an apple-y green. I chickened out on the apple green because I was scared it would be too much color, and I went with something that I considered a little bit more safe.
Today, though, I decided that if I paint the cabinets apple green and they're completely obnoxious, I can paint them again. Because part of the fun of having a house that was built in 1974 is knowing that at one point it was made of groovy, and heaven knows that I do enjoy the groovy. Plus, I think there are people who create spaces that are subdued and elegant – and I think that I am not one of those people. I love living in the middle of a whole bunch of color. Anyway, I guess we'll see how it all turns out. I'll post pictures whenever I finish.
Unless it's all a disaster, of course.
Now. Let's talk about something really important. Let's talk about Jingos.
What are Jingos, you ask?
Well, I didn't know until today. Target was kind enough to bring me up to speed.
Y'all know that I can't resist a new snack cracker product. And it looks like they're Jingos! instead of just Jingos.
Apparently Jingos! are enthusiastic! They're also snappy.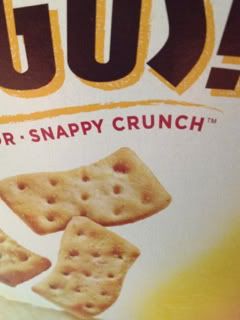 I don't know about y'all, but I think that "snappy" is an underutilized adjective. We need to give it more attention in our day-to-day conversation.
So. There were three or four varieties of Jingos! at our Target, and we picked the parmesan garlic.
Once we were home, I carefully opened the somewhat oddly-shaped box before I tore into the foil bag.
I was immediately struck by the crackers' strong, cheesy notes with an undertone of roasted garlic. The smell was stronger than I expected – way stronger than a box of CheezIts – and I decided that Pepperidge Farm must have approached the Jingos! with a go big or go home snack cracker philosophy. After all, you can't take challenge the CheezIt empire with some watered down cheese flavor. You have to create a cracker that's cheesy enough to make the consumer think, "Is somebody cooking Italian food? Because I'm pretty sure that I smell Italian food right now."
The Jingos! are actually really tasty, and I will buy them again. However – and I can hardly believe that I'm saying this – they're almost too cheesy for me. There's a mildness about the CheezIt that's comforting, and there's nothing mild about the Jingos! parmesan garlic. It's a snack cracker with attitude. It's also a snack cracker for grown-ups; I think the flavors are a little more intense than what most kids expect from an afternoon snack.
This is merely the opinion of an amateur snack cracker aficionado, mind you. I am certainly not a snack cracker professional, but I have dreams, people.
I HAVE DREAMS.