Every once in awhile I'll get a big idea, and then about ten minutes into implementing said idea I'll wonder what in the sam hill I've gotten myself into.
That's pretty much exactly what happened when I started painting my kitchen cabinets.
But I have to say – now that it's all said and done – that it really wasn't as bad as I thought it would be. It was sort of fun, actually. I think I'm just obsessive enough that I enjoy taking on a big project and then resolving over and over again that THE BIG PROJECT WILL NOT BEAT ME, OH NO IT WILL NOT. I WILL WIN.
Now before I get too far gone in this little decorating tale, I probably should explain why I decided to paint my kitchen cabinets, which led to re-working all of my accessories in my kitchen, which led to crafting some new curtains for my kitchen, which led to BIG HAPPY SMILEY JOY at the changes in our kitchen / breakfast room area.
(Sidenote: I feel like I need to tell my friend Bubba – who is a deeply gifted interior designer – that he might want to run from his computer before he sees what I have wrought.)
(Bubba, there is a lot of color on the horizon. You know how I love color. And I also know that you love me enough to forgive me of my color-related trespasses, amen.)
First of all, my kitchen cabinets looked like this before I got started.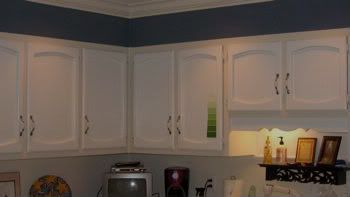 They weren't too bad – just outdated and pretty beaten up. Creme-colored paint on the cabinet frames and white doors. Paint rubbed off in spots. Stainless and white hardware. Very 80s. And given my love for bursts of color, the cabinets felt a little bit blah.
I mean, have you noticed my blog colors? Not exactly subtle.
So.
When we moved in this house the walls in the kitchen looked fine, but they weren't a color I would have picked: a deep blue called Swamp Willow. However, since the paint job was pretty stinkin' awesome, there was no way I was going to paint over it – especially since it's one of those textured Ralph Lauren deals – until the paint started to fall off or the color blue made my eyes bleed, whichever came first.
Much to my surprise, the color has actually grown on me over the last two and a half years. I especially love the way the leaves outside my kitchen windows pop against the blue walls. And about a year ago, I told my husband that I might want to paint the kitchen cabinets a really light – but sort of smoky – green. He smiled and sighed – his usual response when I start to get the new project glaze in my eyes since new projects tend to turn me into AN OBSESSIVE FORCE THE LIKES OF WHICH YOU HAVE NEVER KNOWN.
Anyhoo, last week there were two separate things that finally prompted me to take the paint-the-kitchen-cabinets plunge.
The first one was this painting that I showed to you a few posts ago.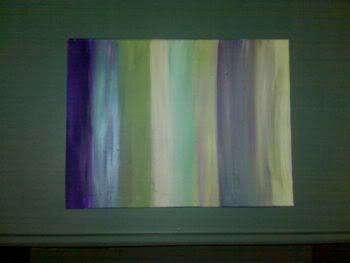 Blues and greens. Oh, I do love them together.
The second one was that my cousin Paige reminded me of some fabric that I got from my mama when she and Daddy moved to a new house about four years ago.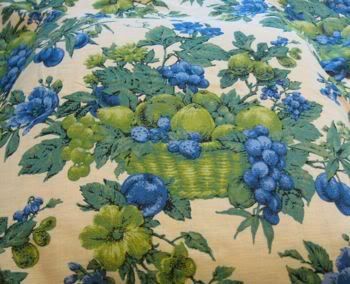 Mama had about ten yards of it, and I thought it was ever-so-kicky and fun. I didn't know what I wanted to do with it, but I figured at some point I'd find the perfect spot for it. It belonged to my Aunt Roxie, and according to Mama, the fabric is about fifty years old. I adore it.
The painting and the fabric were just the inspiration I needed. I went to the Sherwin-Williams (I joined their Preferred Customer club and got 15% off my paint since it wasn't on sale), decided on a color, then came home and got-to-paintin'.
Here is where I will pause and offer three cabinet painting tips that I learned during this process (or as Jillian would say: PRO-cess).
1) Spend ten more dollars and buy really good paint because it will make the job so much easier. I bought Sherwin Williams' Pro Classic semi-gloss, and it was a DREAM to work with. Worth every penny.
2) Don't assume that you have to run out and buy all new kitchen cabinet hardware. I used Rustoleum Hammered spray paint in brown, and it transformed my hardware for about $5.
Seriously. I started with this:
And ended with this: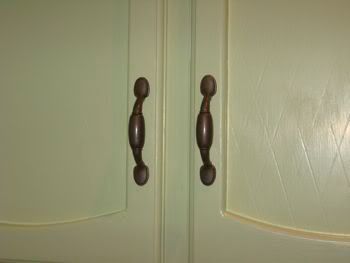 FIVE DOLLARS, PEOPLE.
3) Read The Nester's cabinet painting tutorial.
Okay – I believe I've rambled enough. So I will show you the shiny "new" cabinets. Just keep in mind that I'm having a devil of a time getting pictures of the cabinets where they still don't look white – the green is pretty light, and it's not showing up quite like it does in real life. Therefore comma some of these pictures are a little dark because I took them without a flash, oh thank you.
But nevertheless.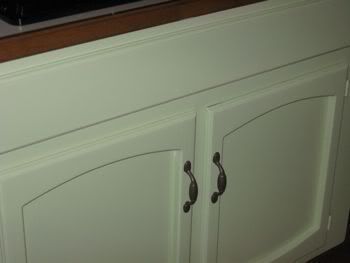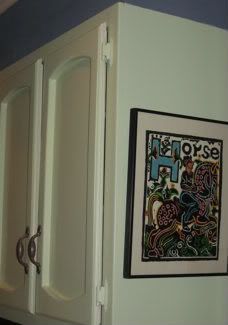 One unexpected bonus is that late in the afternoon the cabinets take on a completely different shade – the green darkens and starts to look just a wee bit blue-green. For whatever reason. And I do enjoy it.
By the way, there was one day last week when I decided that I was insane for painting my cabinets anything other than white or beige. But then I picked up the little man from Vacation Bible School, and he gave me two crafts he'd made.
The first thing was a bracelet, which I eventually tied to one of my cabinets as a reminder of my unexpected color confirmation:
The second thing was a cross he painted: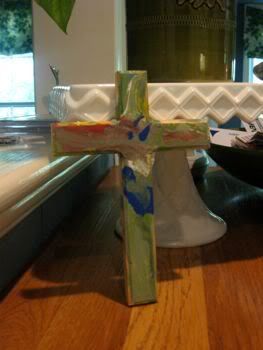 Blue and green definitely seemed to be the theme. So I decided that maybe I was on the right color track after all. And regardless of the color, there's something to be said for having cabinets that are clean and fresh and crisp. It's a welcome change of pace around here.
As soon as I can get my pictures together – and if you can muster the will to read after surviving this epistle – I'll show y'all the curtains I "made" for our breakfast room without sewing a single stitch (thanks, Nester!).
Have a great Monday, everybody.