Well, this has been a delightful weekend.
Friday afternoon I went to see The Great Gatsby with some friends, and since I love the book a whole bunch (it's borderline unhealthy, really), it was fun to see a new adaptation of it. I wish that the pacing had been a little faster, though I thought Leonardo DiCaprio was great, and the sets were oh-so-beautiful. I also wish that the theatre had been a LOT cooler because it's bad enough watching a movie about the 20s when they're burning slap up and putting blocks of ice in front of oscillating fans, but it's a whole 'nother level of frustration to be watching people burn slap up while wondering if the air in the theatre WILL EVER CIRCULATE AGAIN.
I'm happy to report that we all survived the heatwave. But make no mistake: the thermostat at our local theatre is on my Summer 2013 Watch List.
D and I went out Friday night for a Real-Live Fancy Dinner, something that we rarely do because we're just not fancy restaurant people. But about a year and a half ago, some friends of ours gave us a gift certificate to a great place here in Birmingham, an lo, eighteen months later, we finally got around to using it. The food was absolutely delicious, and we had a really good time, but it's just not very often than we eat in a place that doesn't have TVs.
We have very refined tastes.
Saturday I went to a wedding while the fellas ran some errands, and it was a fine way to spend a pretty May afternoon. My friend Alison did the flowers at the church and the reception, and they were gorgeous.
See?
She is so talented.
After I got home, I cooked some supper, and after the young'un was in bed, I took it upon myself to get caught up on Scandal (OH, I HAVE SOME THOUGHTS) and watch Kristen Wiig host SNL. I fell asleep about fifteen minutes into SNL (obviously, I love the night life / I've got to boogie), so while I don't really have a strong sense about whether or not SNL was funny, I do know that I was rested as all get out when I got out of bed this morning.
THE 40s ARE AWESOME.
We had a really sweet service at church, and right after the sermon started, Alex passed me a couple of different notes.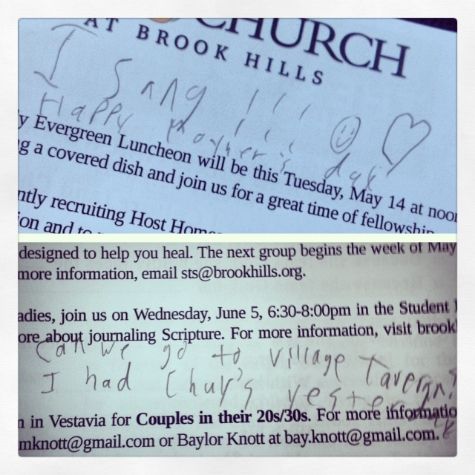 Listen. That first note was mighty sweet in light of an ongoing conversation / discussion we've been having about worship, but the second note just cracked me up. HEAVEN FORBID a child would have to eat at Chuy's two days in a row. That would be terrible.
(We did end up going to Village Tavern, though.)
(The brunch option was oh-so-appealing.)
(But next week I plan to have a deeply meaningful reunion with deluxe tomatillo sauce.)
This afternoon I was fairly worthless but in the most enjoyable ways: I took a nap, hung out with my people, kept up with the State / Ole Miss baseball game, read a little bit, took another nap, heated some leftovers, read a little more, watched The Help, and now I'm typing this post with the Survivor finale on in the background. There were probably lots of things that I could have done, but it surely has been nice to throw all of that stuff on the back burner and just relax.
Even if those two naps mean that I will probably fall asleep around 3:53 Monday morning.
But that's okay. I have Mad Men and a couple of new books to carry me through.
Hope y'all have had a wonderful weekend, too!