About three years ago I wanted to add something special to our house – something that would commemorate signing a contract for my first book – so I ordered a personalized wooden sign from Tara and Andy at the Between You & Me Sign Shop. I picked my favorite quote from The Lion, The Witch, & The Wardrobe, and I was thrilled to pieces when the sign arrived a couple of weeks later.
These are the pictures I posted back in 2012, but the sign is in the same spot – and I still love it just as much.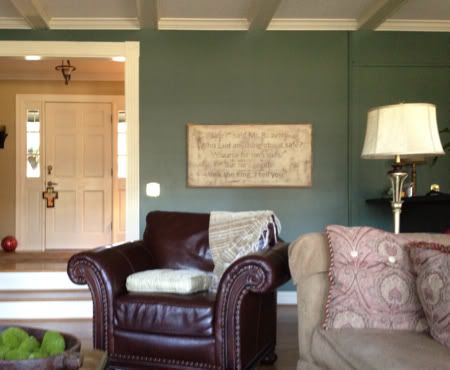 (I know that last picture is super blurry, but you get the idea.)
Then, a couple of years later, book two happened. And when I finished writing Home is Where My People Are and started talking to the folks at Tyndale about what might be a fun book release giveaway, that sign in my living room immediately came to mind. I mean, obviously I'm not giving away my sign, but I thought y'all might enjoy the chance to win a personalized wooden sign of your own. There's just something so tender and sweet about words that settle way down deep in your heart, whether those words come from a book, from Scripture, or from a favorite family saying.
So the folks at Tyndale got in touch with Tara and Andy from Between You & Me, and together they've come up with a mighty fine giveaway. They're giving away a 2 foot by 2 foot personalized wooden sign from Between You & Me Sign Shop, and I'm already so happy for whoever wins. That's a big ole sign, you know?
The sign in the previous picture is one of their best sellers, by the way.
I'm also a little partial to this one.
Isn't that great?
ANYWAY, if you enter this giveaway, you have a chance to win the 2 x 2 sign of your choice, and you can customize it with something you see in the Between You & Me shop OR something that you choose on your own.
There will also be 10 runners-up who will receive a free copy of Home is Where My People Are.
And if you don't win but you'd still love to buy a personalized sign for your house, you can get 15% off your Between You & Me Sign Shop order by using the code BOOMAMA15.
To enter, all you have to do is fill out the widget below. There are all sorts of ways to earn additional entries (you'll see after you enter your email and name on the Giveaway Tools widget). We'll select winners on Tuesday, March 24th, and they'll be notified via email.
And thanks so much, everybody, for all the ways you've supported the new book. Your emails, your tweets, your sweet blog comments – they have all meant the world to me. I'm so grateful for each one of you.
Happy Giveaway, y'all!
(I'm closing comments on this post so that people will use the widget to enter the giveaway.)
(Just over-clarifying for redundancy. It's my gift.)