If you've ever worked in school setting, you know that there are some years when you get to May and you're totally energized. You're ready for summer, you're planning for fall, and you don't feel even the slightest hint of burnout.
But then there are other years when May rolls around, and and no matter how much you tell yourself you're going to finish strong, the reality is a little bit more like this.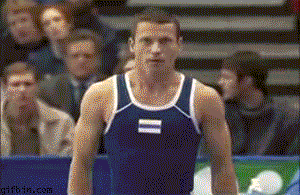 (NAILED IT.)
Honestly, I watch that clip and think, "Well, at least it looks like he tried to get up."
I'm not sure I could say the same right now.
Given that, I'm going to indulge my current state of Eye-Crossed Tired and break out Ye Olde Beloved List Format to share a few bits of information that I want to be sure to pass along.
1) The folks at Tyndale have put together a great discussion guide for Home is Where My People Are. It's tailor-made for book clubs, so I think it'll be a helpful resource for some of y'all. Yay, Tyndale!
2) You don't want to miss this post of Melanie's. So encouraging and beautiful.
3) This Saturday morning I'll be speaking at Crosspoint Community Church in Gadsden, Alabama. It would be so fun to see some of y'all there!
4) I've mentioned a few times that we've turned a bedroom into an office for David and me. I'm not quite finished with the decorating – I still have a few more odds and ends to hang on the walls – but this is my new favorite spot in our house. It's amazing what a difference it makes to be able to work in a room where I can shut the door. Granted, there aren't any grande flat whites in the new office, but that's the only thing I've missed about writing at Starbucks.
Also, some of you may remember that Martha really wanted me to use her golden bamboo mirror! golden bamboo! it's on page 20 of Southern Living! golden bamboo! You'll be happy to know that it's hanging above the office sofa; it makes me smile every time I look at it.
5) The mystery of Trisha's (unexplained) new kitchen remains unsolved. I remain hopeful that we'll receive reliable, concrete information very soon.
All righty. I think that's all. So if you'll excuse me, I will now resume my regularly scheduled time with pajamas and Thursday night TV, oh hallelujah and amen.
Y'all have a great weekend!