I was 11 or 12 years old, I think, when I discovered that the Sunday sports section was a gold mine of information during the college football season. My little hometown paper didn't necessarily have loads of coverage, but the Jackson paper, the Clarion-Ledger, always devoted at least two full pages to each Mississippi team. So on Sunday mornings in the fall, I'd gather up four quarters (or ask Daddy for some) and carefully put them in the newspaper machine outside the Jitney Jr. on the way home from church. I can still hear the "plunk" of those quarters hitting metal and the creak of the newspaper machine door as it opened. Even now I think it's what anticipation sounds like.
After Sunday lunch – or sometimes even during Sunday lunch – I'd open up that newspaper and read every single word about Mississippi State in the sports section. I saved all the stories that I loved in a brown photo album with a fancy fake brass binder. I soaked up every single word of Rick Cleveland's columns and wondered how he learned to write like that. Same for Orley Hood, Billy Watkins and, in my grown-up years, Sekou Smith, Ian Rapoport and Kyle Veazey. Even though they have no idea, those men have been some of my very best writing teachers. I respect their work so much.
So a few weeks ago, when a blog reader-turned-friend who works for the Southeastern Conference asked me if I'd want to tag along with her during SEC Media Days, I was thrilled. THRILLED. Because yes, I love college football, and I especially love SEC football, and I especially especially love Mississippi State football. But no kidding: on equal footing in the thrill department – at least for me – was the prospect of seeing sportswriters that I'd read and admired for years in their element. In their natural habitat, if you will. LIVE AND IN PERSON. I couldn't wait.
Since I already had plans to be out of town last Thursday and Friday, I could only make it to the first day of media days last Wednesday. I made a not-so-quick stop to get my driver's license renewed on the way to Galleria (media days are at the Wynfrey Hotel, which is connected to the Galleria), and as I pulled off the interstate and onto my exit, I couldn't help but think about all the times I'd been to that big ole mall in high school and college, wondering what sah-weet treasures Express and Espirit and Benetton might have to offer. There's just no way I could've known that a trip to the Galleria at age 41 was going to blow that sassy safari t-shirt I bought from the Galleria Banana Republic when I was 17 STRAIGHT OUT OF THE WATER.
I couldn't decide where to park once I got close to the mall, but I finally opted for the parking garage next to Sears. I have no idea why, especially since it's not particularly convenient or, you know, CLOSE to the Wynfrey, but it wasn't crowded and I was nervous and I felt a little better knowing that maybe I could CALM DOWN A SMIDGE on my walk to the hotel. Plus, I discovered as I walked through Sears that hammerhead auto-hammers were on sale for $99, and I would've completely missed that critical piece of info if I had parked, say, by the Belk's. Or with the hotel valet. So clearly I made the right decision.
Also, I took this picture on my way to the hotel, but again, I have no explanation why.
Apparently I was feeling very impulsive and devil-may-care-ish last Wednesday.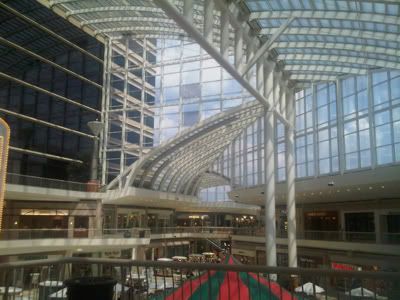 I think we can all feel better now that we've seen such a stunning glimpse of Indoor Mall Architecture of the mid- to late- 80s. I know I do.
When I walked in the hotel there was all manner of activity going on in an area that's called "Radio Row." About 20 sports radio stations set up shop in the entry of the hotel during media days, and walking between all those tables is like being in a movie scene where all the supporting characters voice their opinions while rotating around the main character's head. And I know that I'm probably not explaining that well, but four of you totally understood what I was trying to say, and I'm just as grateful as I can be for that. Apparently you four watched just as many John Hughes movies as I did.
After walking around for a few minutes I found my friend K at the registration tables, and I told her to put me to work – otherwise I'd just stand there and stare. She asked if I'd mind helping with lanyards and name tags, and of course I didn't mind because I WAS JUST SO TICKLED TO BE THERE. Within five minutes I'd seen one of the men I mentioned earlier, another reporter who's a bit of a legend in these parts, and a radio host/blogger from another state (known by Sister and me as the Chief Pot Stirrer during all the Cam Newton stuff). I didn't say a word to any of the media folks, of course, mainly because I think I would have scared them if they knew how much I love to read what they write. And they probably would've thought I was a stalker. And then they might've called security. And what good is attending your first SEC Media Days if you have to be escorted back past the hammerhead auto-hammers as the nice men with badges are seeing you to your car?
When the registration stuff was almost over, we walked down the hall to a BEAUTIFUL lunch from the Gulf Shores and Orange Beach Tourism Bureau, a new corporate sponsor of the SEC. It was a big ole seafood spread, and oh, it was tasty. I happened to be sitting with some State fans at lunch, and it was big fun to talk about All Things Bulldogs over some fried shrimp, crabcakes and iced tea.
(Come to think of it, that last sentence could be the foundation of a pretty good country song.)
(Only the country song would have to be about beer and not iced tea, but DON'T TELL THE BAPTISTS OR THEY'LL KICK ME OUT.)
(Oh, I kid.)
(They'll only kick me out if I'm dancing.)
After lunch we went upstairs to where all the coaches and players were speaking. The line-up for Wednesday was Arkansas, Florida, South Carolina and Mississippi State, and if you think I wasn't over the moon about getting to see that last school, then perhaps I should introduce myself. As well as my MSU crazy.
Since I'd never been to media days before, I didn't have any sort of frame of reference for the size of the event. And that's why I was a smidge surprised when we walked into the room where the coaches were speaking and I saw how many reporters were in the room.
We rotated in and out of the big room for the rest of the day; we'd listen to a coach speak, then head in the direction of the conference rooms to watch the players move from TV interview to TV interview. The whole process is a well-oiled machine; it's really well-done and so respectful of the coaches' and players' time. It also felt a little bit like a giant family reunion since a lot of the media relations people, reporters and SEC people have known each other for years. The SEC staff members were incredibly gracious and welcoming to everybody; it was impressive, really, to see how organized and efficient they were without seeming the least bit stressed or hurried.
Also, did I mention that I got to see the MSU quarterback? Because I totally got to see the MSU quarterback.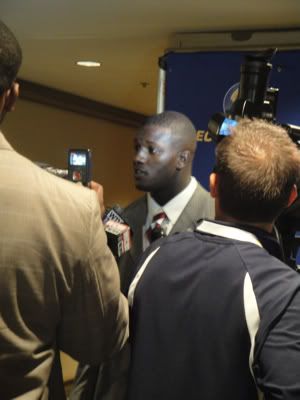 I have a feeling that he's going to do great things for the Bulldogs this year.
The very last speaker of the day was Dan Mullen, MSU's head coach, and to my credit I did not ring a cowbell (aye, and loudly) when he entered the room. I thought every coach did something really well when he spoke: Bobby Petrino maintained a calm optimism throughout his speech, Will Muschamp showed that he's not afraid to coach with the big boys, Steve Spurrier won over every single person in the room with his dry wit and self deprecation.
And Dan Mullen? Oh, mercy. He proved beyond a shadow of a doubt that he's the best PR machine that Starkville and Mississippi State have ever had. I lived in Starkville for six years when I was in college and grad school, and by the end of Coach Mullen's speech, I was ready to go home, pack some boxes, load up the family and move back to Starkvegas. He and his wife love it there, and their enthusiasm for Mississippi and her people is totally contagious.
Once Coach Mullen's speech was over, my friend K gave me the best parting gift ever: a box filled with media guides for every single SEC school. You can imagine my delight. And you can also imagine that once football season starts I will DRIVE MY PEOPLE CUCKOO when I pull out the media guides for whatever two teams happen to be playing. Because Mama here will want to SHARE SOME PLAYER NAMES AND STATISTICS. Oh yes ma'am I will.
All in all it was an absolutely incredible day. I got to see so many writers I admire, and I also got a little spring in my step when I realized that FOOTBALL SEASON, IT IS UPON US. I cannot wait. And while I've always been proud to cheer for a school that's part of the SEC, I think I'll be even more proud this year. Because the folks that I met at media days? They're good people. They work hard. They work well.
And they work with their sponsors to make sure that there's an endless array of fountain drinks and Golden Flake potato chips right outside the print media room.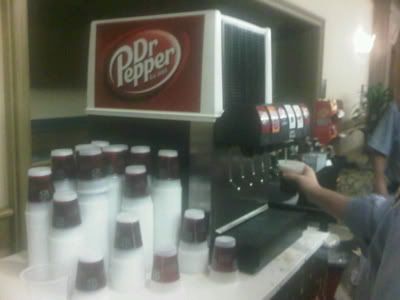 Honestly, what's not to love?