When I was growing up, my friend Laura's daddy would always start off a new school year by singing "SCHOOOOOOOL DAYS, SCHOOOOOOL DAYS, DEAR OLD GOLDEN RULE DAYS," and it made me laugh whenever she would tell me about it because who? who sings that? who wakes up their child by singing a song from the early 1900s?
We do, apparently.
And so this new school year began.
I'll spare you the sight of our before school pictures; just suffice it to say that my eyes would have benefitted from a solid half hour underneath some ice-cold cucumbers. I've noticed over the course of this past year that it's always a good idea to give my face a little recuperation time in the mornings so that things – like my eyelids, for instance – can settle down a bit, but the hurried pace of the first day of school did not afford me that privilege. My 20 year-old self would have laughed at my need for early morning face rehab, of course, as she jumped out of bed, threw on some sweats and hauled her crease-free face to Lee Hall two minutes before Advanced Composition started.
But here's a little secret that you can't tell anybody: sometimes, when I think about that wrinkle-free, crease-free version of myself? I want to kick her. Just a little bit. A gentle kick. Mainly so she'll appreciate the fact that she doesn't have to slather on moisturizer the second she gets out of the shower. And so that she'll treasure her precious few remaining years of looking wide-eyed with absolutely no help at all from ice packs and/or cosmetics.
Anyway.
The little man had a great first day of school, which honestly wasn't a huge surprise since he typically has a great time doing anything at all. Pushing a grocery cart down a frozen food aisle? BEST THING EVER. Sitting on the couch in the salon where I get my hair cut? IT'S SO RELAXING, MAMA! Watching a public transit bus at a red light? I LOVE THOSE BUSES! I WANT TO RIDE ONE OF THEM SOMEDAY! Going to Walgreens? PERFECT! I WANT TO LOOK AT ALL OF THEIR FUN TOYS!
Bless him. He's definitely a carrier of the COMPLETELY LIMITLESS ENTHUSIASM gene.
So after school we headed over to a yogurt shop to celebrate the first day of school with my sweet friend NK and her girls. It's one of my favorite traditions, mainly because I like to sit back and think about how much the young'uns have grown and how before you know it we'll be at their graduations and they won't really need us so much anymore and OH MY WORD DOES ANYONE HAVE A TISSUE?
The kids had a blast fixing their yogurt and then piling on nutritious toppings like gummy bears and sprinkles and Oreos and hot fudge. But more than anything, they had a blast laughing about everything and nothing.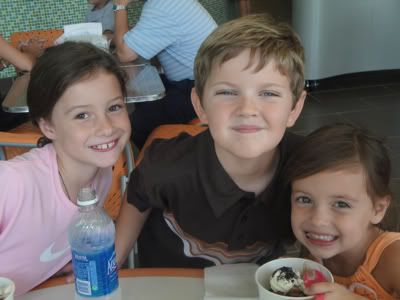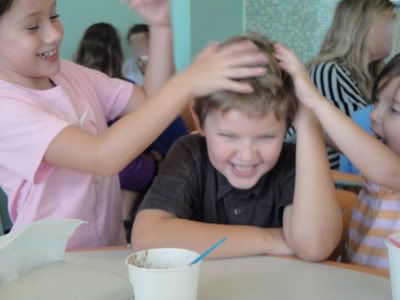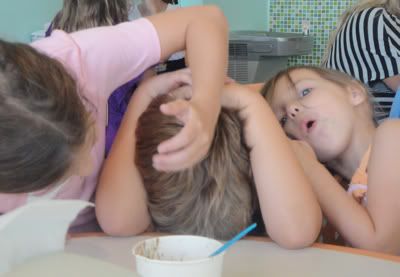 They're getting so big – which is all the more reason to hold them extra tight while we still can.
Hope back-to-school has been a happy time for you, too!