Every single night I'm dead-dog tired by 8:30 but push through until I get a second wind. The second wind usually lasts until 11:30 or 12, and then I sleep for five or six hours and wake up and start the whole process over again. I would never presume to claim that this behavior is "wise" or "healthy" or "recommended by experts," but the start of a new school year combined with a new work schedule combined with a whole bunch of deadlines combined with a complete inability to resist new episodes of "House Hunters" and "The Best Thing I Ever Ate" means that I've spent the last couple of weeks teetering on the edge of annoyingly overtired.
Honestly, the only thing that's been keeping me going has been Chuy's.
Well, Chuy's and the Lord.
But last night? Do you know what I did?
I will tell you.
I went to sleep at 9 o'clock. Not to bed. To sleep. And when I woke up of my own volition at 5:11 this morning, I felt like a new woman. A new, very rested woman. WHAT A NOVELTY.
All of last night's sleeping meant that I was feeling very productive this morning, and at some point I clicked over to Pandora so that I could listen to worship music while I was getting some work done. After a few minutes I noticed that a lot of the songs were old school – "Open The Eyes of My Heart," "Awesome in This Place," "Above All," "The Heart of Worship," etc. – and before long I decided that I had to hear Sandi Patty and Wayne Watson's "Another Time, Another Place" RIGHT THAT SECOND. Now granted, it's not really a congregational worship song, but oh my goodness – it was my absolute favorite Christian song in the early 90s.
And do you know why it was my favorite?
Because I wanted to sing it in a pageant.
Deeply spiritual. I was deeply spiritual.
But no kidding: I really did love the whole "Another Time, Another Place" album. I was at the front end of what would be five pretty rocky years in terms of my faith, so the fact that the songs on that album resonated with me so deeply is sort of a wonder to me. I remember thinking when I first heard the album that it was like Sandi Patty got tangled up with the Beverly Hills Cop soundtrack, and do you know what? THAT SUITED ME JUST FINE. It was the early 90s, after all.
I especially loved the video for "Another Time, Another Place" because Sandi stood on a cliff overlooking the ocean while she was wearing this billowy jacket thing that was part-Stevie Nicks and part-Suzanne Sugarbaker. Her hair was at an all-time high in terms of volume, and her voice was perfection. The only thing that would have made it any better is if there had been some choreographed dance moves scattered throughout, but that would have probably been too scandalous for the early 90s. Plus, Sandi's hand gestures are in a league of their own, and why mess with perfection?
So this morning I decided that I desperately wanted to find the "Another Time, Another Place" video on YouTube, but it was nowhere to be found during the .34 seconds that I searched diligently for it. However, I believe that I found something that may have delighted me even more. For so many reasons.
For so many, many reasons.
Now there's no question that the song is beautiful. BEAUTIFUL.
But I'll tell you what: I was mentally and emotionally unprepared for the sight of all that early 90s hair. SWEET MERCY. And I'm not throwing hairstyle and/or fashion stones, mind you. After all, I once wore a formal dress with such ginormous shoulder pads that my date spent a good portion of the night introducing me to people by saying, "This is my date, Sophie. And these are her sleeves."
WE ALL HAVE OUR FASHION BAGGAGE.
After I watched the video I made a comment on Twitter that I didn't know whose hair delighted me more, and I spent a chunk of time this afternoon laughing my head off at people's responses. I didn't know how to get all of them in one screen shot, and I have even less of an idea how to link to them, so here's a sampling.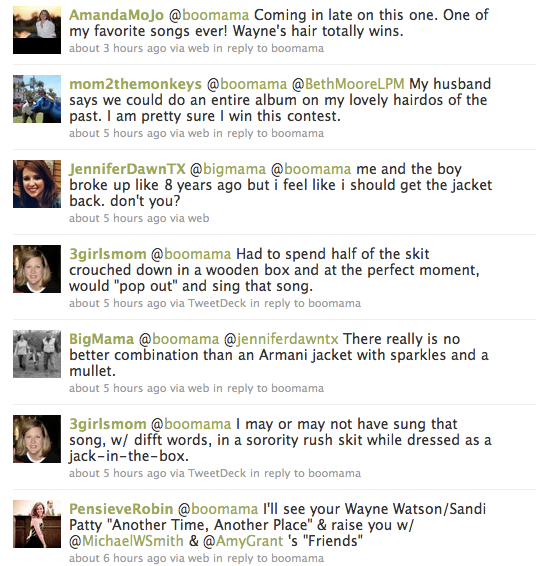 For the sake of clarity, you should know that Jennifer is referring to the fact that her ex-boyfriend ended up owning the very jacket that Wayne Watson is wearing in the video. THE WORLD IS A PEANUT, Y'ALL.
And then, to top it all off, there was this response from Dori:
So I clicked through Dori's link, and here is what I found.
Do you know what that is? THAT IS A BLESSING.
And thus concludes the story of how I woke up rested and then the internet made my day.
You'd better believe that I'm going to have an early bedtime again tonight.
There's no telling what bits of 1990s treasure will be waiting on me in the morning.