A few weeks ago D and Alex made a trip to Mississippi without me. At some point while they were there D and Mama determined that a supper of fried catfish was in order, and as a result of that decision Alex made his inaugural trip to the fish camp.
Quite frankly I was a little teary-eyed about missing such a huge milestone in my child's life.
I'm still trying to get over it.
According to D, Alex was initially a little uncertain about eating a fried food that had, you know, BONES, but eventually he realized that OH MY WORD, THIS FISH IS DELICIOUS, WHY DID NO ONE TELL ME ABOUT THIS BEFORE, and he proceeded to eat a whole piece of catfish off of his daddy's plate.
If you're a Southerner, you know that's a memory book moment right there.
Well, this past Friday, just as Alex and I were crossing the Mississippi / Alabama line, he piped up from the backseat and said, "Mama? Can we please go to the fish camp tonight?"
I don't know when I've experienced a greater swell of maternal pride.
So I quickly picked up my phone, called my mama and made all the necessary arrangements.
I don't mess around when it comes to large quantities of food fried in peanut oil, my friends.
Later that night we went to a fish camp on the outskirts of my hometown. It's a no-frills kind of place: cement block walls, long picnic-style tables, and plastic tableware.
But when you're eating this…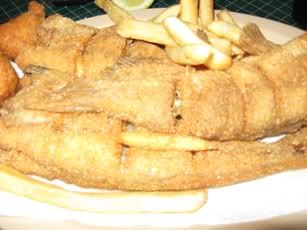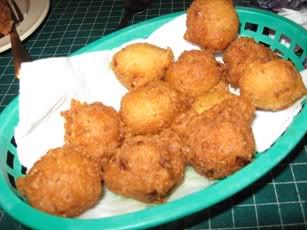 …who really gives a rip about the atmosphere?
Alex was WOUND UP, to say the least. We went to the fish camp with both of his grandmothers, my aunt and uncle, my cousin Paige and her family, and having SO MANY! RELATIVES! IN THE SAME! PLACE! was just about more than his little four year-old heart could bear.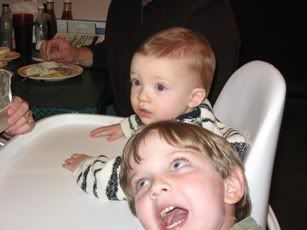 This is the little man with his cousin Joseph. Joseph is almost a year old, which pretty much means that he's at that stage where I COULD JUST EAT HIM UP, OH MY WORD, HOW CAN THE WORLD CONTAIN SO MUCH CUTENESS?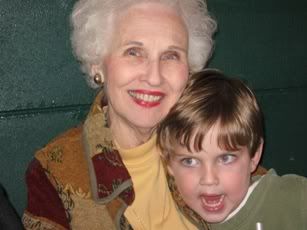 Alex had big fun snuggling up with
Martha / Mother / "Martie,"
and I'll have you know that Martha, the woman who can eat one Pringle and be completely satisfied, ate two whole catfish filets, hush puppies, French fries and cole slaw.
So clearly she is done with all her eating for 2007.
She'll probably have a half a grape at the beginning of 2008.
If she's even remotely hungry by then.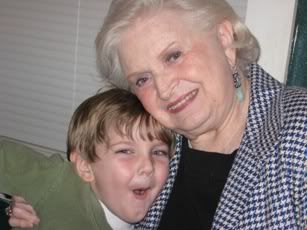 Not even my mama could calm down the the little man. She usually is able to work her dial-it-down-a-notch magic on him, but he'd have none of that at the fish camp. He was far too busy throwing cracker wrappers and crawling underneath the table.
And also: there was a lot of fake burping.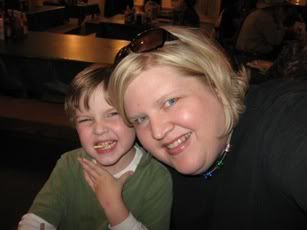 He did pause mid-cracker to take a picture with me.
Yeah. I know. I haven't been this blonde since 1982. When it was my natural color.
And I really do like it. I do.
However, it does make me feel a bit like a local news anchor. Or perhaps even a sideline reporter on ESPN.
I mean, I don't think it's a coincidence that the phrase "BACK TO YOU, CHRIS!" has been playing non-stop in my head for the last three days.
I'm also fighting the urge to buy an array of Sensible Suits in colors that would hold up well under the glare of TV studio lights.
See? My child wanted to look at Joseph. He really did. But he was hypnotized by the blinding glare of my hair. He literally could not turn away.
But that's okay. I was affected in much the same way by the fried catfish.
You know, perhaps my hair and the catfish could co-anchor the five o'clock news.
It's certain to be a ratings bonanza.