Saturday we went to Six Flags as planned, and we had a wonderful time except for the fact that I got completely grossed out by some of the older rides. I'm a fan of amusement parks in general, and I will support just about anyone's rollercoaster habit with unbridled enthusiasm, but if I'm on some sort of "river cruise" featuring animatronic characters and said characters are so old that there are SPIDER EGGS ON THE COSTUMES, then I'm gonna suggest that maybe it's time to shut 'er down and refurbish.
And yes, I'm talking to you, Haunted Mansion.
The little man loved every single second, though, and he didn't care one bit that awnings were ripped and water was stagnant and blah mama can be a little picky about these things blah blah. Plus, the weather was absolutely gorgeous, and since I never tire of seeing tall pine trees contrasted against a bright blue sky, I was a pretty happy camper. Except for those spider eggs because, well, EWWWWW.
We got home early Saturday night, just in time to see the Bulldogs get taken to the woodshed, and once I realized that the game's outcome was not going to be pleasing I started making my way through some emails I needed to answer. I downloaded the day's pictures and checked a few blogs, then put the computer to sleep because I wanted to watch Saturday Night Live.
A little while later I decided I wanted to check the Twitter to see what people were saying about SNL, so I woke up the computer, looked at my desktop, and couldn't find my mouse icon anywhere. No little pointy thing to be found. So I decided to restart, because that, that is what you do when your computer does anything remotely out of the ordinary, you just restart it and it'll fix itself and angels will sing and all will be well with the world.
But all I saw after the restart was this blue-ish screen with a file folder and a question mark blinking at me.
Now I don't know a lot about computers, but I have seen enough television to know that odds are the whole folder with a question mark thing was probably very bad news. So I summoned the husband. And after he worked with my computer and searched some things on his computer and worked with my computer some more, he made an announcement that honest-to-goodness made me cry: "your hard drive is dead."
All my pictures. All my email. All my MUSIC, OH MY LANDS MY MUSIC.
Dead.
My Mac. My sweet little Hoopty Laptop.
Dead.
Oh, internets.
Fortunately David backed up all my pictures a couple of months ago, so I didn't lose very many of those at all – mainly just the stuff from July to now, and I'd actually uploaded a lot of those to Photobucket. For a split second I thought I'd lost all my Africa pictures, and when I realized that D made back up copies of them I was so grateful that I started to cry again, and really, why are you even reading this right now, you should totally be somewhere buying an external hard drive so you can BACK UP ALL YOUR PICTURES RIGHT THIS VERY MINUTE.
The lost email is a little bit tough to take, mainly because I'd saved lots of sweet emails from y'all. I also had all of my bloggy contacts in my Mac email – but now all that stuff is gone. I sent out Travis' Christmas CD giveaways last Wednesday or Thursday – so I should be okay where that is concerned. But if you've emailed me about doing a giveaway, or if we were planning a giveaway – all that stuff is toast. So if you don't mind, just email me again and we'll start from scratch.
And the music – well, I don't have to tell y'all that it's the biggest loss of all for me. I loved everything in my iTunes and had a little collection-o-music built up that so totally spoke to my heart that I'm getting teary-eyed right now just typing this. I have about 200 songs from my iTunes on my iPod right now, so for the time being I'm just going to charge my iPod in the car and pretend like all my music isn't gone. And I can't talk about this anymore or I'll go into the ugly cry and that just makes me feel silly so HEY, HOW ARE Y'ALL?
I'm peachy. Thanks for asking.
Right now our plan is to buy a refurbished hard drive, try to get my Mac up and running for just a little bit longer, and then sock away money for the next few months until we have enough to get a new Macbook. We have an iMac for D's work, so we're not totally without a computer, but since I do a lot of my bloggy bidness while he's working, we're gonna have to figure out something. And I know that we will. In the grand scheme of things, this isn't exactly an earth-shattering problem.
But nonetheless, I'll miss Hoopty Mac as she used to be. We've had some good times, Hoopty and I. We've been hither, there and yon – overseas, even – and she's been a trusty companion. In fact, if I hadn't dropped her in the airport when I was leaving for Africa, she'd probably be alive and kickin' right now.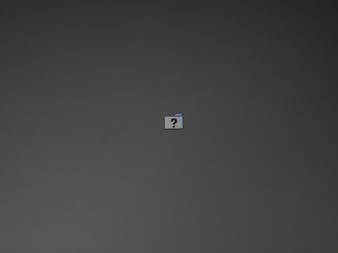 But instead, she's flashing a folder and a question mark, wondering what in the world happened to all those great emails, and HEY, WHO TOOK AWAY THE MUSIC?
Bless her sweet little hoopty heart.