We've had some lazy summer days this week, probably because it rained pretty much all day long on Monday and Tuesday. I don't really have an excuse for why Wednesday was lazy, but I'm tickled to death that it was. And I just remembered that we went to Blockbuster on Wednesday, so see? TOTALLY PRODUCTIVE. Companies should hire me as some sort of efficiency expert.
Today we ran a hundred errands, and in the midst of all that climbing in and out of the car, I realized that somehow I've pulled a muscle in the lower part of my back. I've decided that I'm going to blame Jillian Michaels for my back ish-ahs, mainly because I don't really care for her tone during The Shred. She's not overly condescending, mind you, but she trash talks just enough to make me want to mock her cropped sweatpants with the rolled-down waistband and then ask her what in the world she has against socks. But other than that I love her to pieces.
Anyway, when we got home I remembered that there were a whole bunch of pictures on my camera that I needed to download to my computer. I have tried to download the pictures on at least three different occasions only to find that my camera batteries were dead, and then when I would charge some more I would forget to actually put them in the camera, and now you can see how I managed to completely overcomplicate a situation that should have taken no longer than eight seconds to resolve.
For what it's worth, I also blame Jillian Michaels for all of my camera battery woes. Just because.
So this afternoon I finally got the pictures on my computer, and when I looked back through them, I almost cried when I saw this one.
It was the last day of school. And could we STOP IT with the growing, please? I've had enough of the growing. And while we're stopping it with the growing, would one of you please turn off the time? Thank you.
But then I found these pictures. And they made me laugh so hard.
Apparently there was some sort of Star Wars-related lookout on top of Jif Mountain. And really, you can understand why they'd need a lookout given all the conflict over in Crockpot Valley.
You know what else happened this week?
Stuff grew.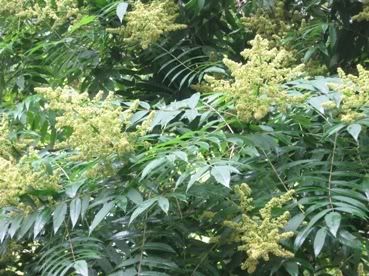 Those are our neighbors' blue hydrangeas, by the way. I've been a little obsessed with them, but you've probably already picked up on that since I obviously TOOK PICTURES OF THE PRETTY FLOWERS FROM AFAR.
And despite all my protesting, this little stinker grew, too.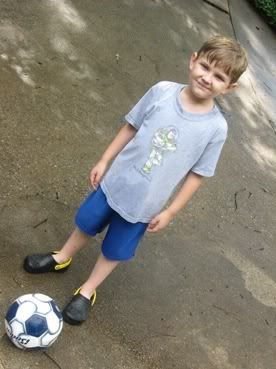 I totally blame Jillian Michaels.
And that's just all there is to it.