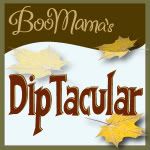 Well, I think we can all agree that it's a glorious time of year. In addition to the fact that fall is just around the corner and September is blessedly, unseasonably cool so far, college football is now underway. In fact, as I'm writing this post Boise State and Oregon are playing on ESPN, and even thought I am always a wee bit puzzled by Boise State's blue football field, I am TICKLED TO PIECES to see them on my TV screen tonight.
Because where college football leads, dips will most always follow.
Hallelujah. Give the Lord a handclap of praise.
I don't think I've ever – EVER – met a dip that I didn't like, and as far as I'm concerned there's no more perfect gameday menu than about four or five dips and an assortment of chips. And I think it goes without saying that at least one of those bag-o-chips needs to be Fritos.
I adore a Frito.
Anyway, whenever my beloved Mississippi State Bulldogs play a televised game, you can rest assured that a couple of things will be happening in our house: 1) I will be vacuuming, because I get very, VERY nervous when the Bulldogs play and there's something about vacuuming that soothes my nerves, not to mention that all my yelling isn't nearly as obnoxious when the vacuum drowns it out and 2) I will be eating cheese dip. Well, and 3) I will be drinking diet Coke over ice.
And 4) I will be calling my sister at least 5 or 20 times.
We're sort of enthusiastic about our Bulldogs around here.
So in the spirit of fall and football season and fun times with family and friends, here are a few dips that I love to make for college gamedays.
Caramelized Onion Dip
from Come On In
1 tablespoon REAL butter
1 tablespoon canola oil
1 large red onion, quartered, very thinly sliced
1/2 cup sour cream
1/2 cup REAL mayonnaise
1/4 teaspoon salt
1/4 teaspoon cayenne pepper
1 teaspoon red pepper flakes
1/8 teaspoon Tabasco sauce
Saute' onion in butter and oil until caramelized (takes about 15-20 minutes). Cool and combine with remaining ingredients. Mix well and chill for at least 1 hour. Serve with chips or crackers – or both if you're feeling crazy. Serves 6.
**********
Asian Style Dip
from Epicurious
1/2 cup mayonnaise
1/4 cup sour cream
2 tablespoons soy sauce
1/2 tablespoon dried basil
1 tablespoon sesame oil
1 tablespooon toasted sesame seeds
1 tablespoon rice vinegar
1/4 teaspoon dried ginger
1 teaspoon sugar
1/2 teaspoon dry mustard
1/8 teaspoon ground red pepper
Combine first 11 ingredients in a small bowl; whisk to blend.
Cover and refrigerate. Serve with assorted cut-up vegetables (carrots, red bell peppers, sugar snap peas, cucumber, broccoli – whatever you like). Serves 6.
************
And finally, I've posted this recipe before, but OH MY WORD it bears repeating, mainly because it will change your life forever.
White Rotel Dip
from my sister-in-law Janie
3 packages of pork sausage (mild or spicy is fine – but use at least 1 maple-flavored)
4 packages of cream cheese
2 cans of Rotel tomatoes
Brown sausage and drain. In a large saucepan, combine all ingredients and heat until cheese is melted, being careful to stir often.
Serve with tortilla chips. And as I said the first time I posted it, if you're worried about eating cream cheese AND sausage in the same dish, don't worry because the tomatoes are TOTALLY healthy, and therefore you'll be just fine.
**********
I hope y'all have a great time looking through all the recipes today – I cannot WAIT to find some cheese-laden treasures. And remember: when you add your post to the Mr. Linky, please link to your specific post – not your general blog URL.
Happy DipTacular, y'all!