From the time I was in seventh grade until I graduated from high school, my daddy and I went to all of the MIssissippi State home football games together. For those five years I believed with all my heart that there was no such thing as too much spirit wear, and it wasn't uncommon for me to go to a game wearing a Mississippi State t-shirt topped with a Mississippi State sweater topped with a Mississippi State windbreaker. And naturally I would accessorize with my Mississippi State earrings and my Mississippi State necklace.
All the while holding a cowbell, of course.
When I was 14 Daddy and I went to the State/Ole Miss game in Jackson, and on our way into the stadium, I spotted a large MSU megaphone that was attached to a chain. Naturally I had to have it because, I mean, the shirt and the sweater and the earrings and the necklace and the cowbell and the pompom clearly weren't enough to convey my love for my team. So Daddy bought the megaphone for me, and I used it to yell like crazy during a game that ended with a field goal that has come to be known as The Immaculate Deflection. We lost 24-23.
Oh, I was heartbroken. And to add insult to injury, my friend Jon – who was and still is a Rebel fan of the highest order – came over to our house later that night and put a huge sign that said "24-23" in our front yard. If it hadn't been for the fact that Jon's daddy was a preacher (in my teenage estimation, being a preacher meant you were closer to God and therefore could SMITE SOMEONE VERILY if they misbehaved), I would have retaliated. But instead I just held tight to my megaphone-on-the-chain while I cried over the field-goal-that-wasn't.
It was terrible.
This past Saturday we spent the morning at a soccer game and got home just in time for Mississippi State/LSU game. For whatever reason I had a feeling that we were going to give the Tigers a run for their money, so I set up base camp in front of the TV in our bedroom and hunkered down for an afternoon of football.
This is what base camp looked like, by the way.
Computer. Comfy chair. Diet Coke. The only thing you can't see is my phone, and that's because I was using it to take the picture. Looking for the real camera would have required far too much effort in light of the suspense-filled football festivities.
For the next three hours we screamed and clapped and cheered and sighed. I can't even begin to tell you how many texts I exchanged with Sister. The lead went back and forth, forth and back, and by the fourth quarter, when Dan Mullen led the team in the Dog Pound Rock on the sideline, I was convinced we were going to win. I just knew it. Especially when a certain six year-old ran out of the room saying, "I'LL BE RIGHT BACK" – and then ran back in the room a minute later looking like this.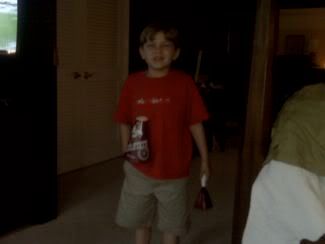 Oh, bless him. And yes, that's my old megaphone hanging around his neck. It's his heritage, people.
We took turns cheering through the megaphone for the rest of the game, and we were crushed when the Bulldogs came up short (six inches short, to be exact). We were a smidge deflated when it was all said and done. Our boys played so hard, and it hurt my heart to watch them walk off that field without a win.
Despite the loss, it was such a fun afternoon – lots of screaming and jumping and laughing with my people. We're so stinkin' proud of our Bulldogs (WHO'D HAVE THOUGHT they'd give the #7 team in the country a run for their money?), and we know they'll bounce back. Georgia Tech is up next. Watch out, Yellow Jackets.
Another positive? No gloating LSU fans put a sign in my yard that said "30-26." Thank goodness I didn't have to cry into my megaphone again.
So. How did your team do on Saturday?