During Saturday's big football extravaganza, Alex mentioned a couple of times that he wasn't feeling very well. Given the traumatic nature of the Bulldogs' loss, I completely understood where he was coming from because, well, I wasn't feeling very well, either. Losing a game by two whole inches will do that to a person.
But by Sunday morning, it was official: All Was Not Well. The little man had a high fever and was lethargic. He stayed on the couch all day long and at one point in the afternoon he FELL ASLEEP FOR MANY CONSECUTIVE HOURS (if you have ever lived with a six year-old boy, you know that afternoon sleeping is completely unheard of and a sure sign that something is awry). When he finally woke up, I fixed him a Sprite, and after one sip he said he didn't want any because "it tastes funny, Mama."
So clearly our Monday was going to involve a trip to the doctor's office. And when the little guy's fever hit 104.4 Monday morning, I couldn't punch the numbers on my phone fast enough.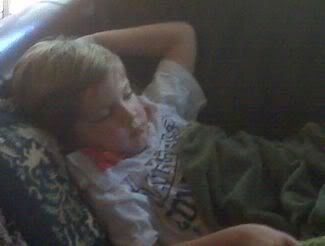 As my mama always said to us when we were sick: bless his bones.
We got one of the first appointments with our pediatrician Monday morning (yay for an empty sick kid waiting room), and it took all of ten minutes for Dr. W to diagnose that the flu was the culprit. I've been a wee bit frightened of the flu ever since FLU! DANGER! started making headlines back in the spring, but to my credit I did not wash my hands in scalding water and then bathe them in Purell after Alex's diagnosis. I just quietly put on my customized hazmat suit and face mask and gingerly made my way to the check-out desk where I handed the office manager my debit card in a protective plastic seal.
As it turns out, at least in our family's experience, this strain of flu has been sort of a funny viral bird. The fever part of it has been stubborn as all get out, don't get me wrong – but once the fever got down to around 101-ish (as opposed to 104-ish), the flu-y little man in this house has been LIVELY. We keep reminding him that he has to rest (doctor's orders), but this morning I walked past the living room – where he has been stationed on the couch for the better part of the last three days – and caught him doing somersaults in the middle of the floor.
So the bottom line is that while yes, he is congested and coughing and still battling a low-grade fever, he is also BUCK WILD. At supper tonight he was VERY! EXCITED! about the red beans and rice because HE LOVES BEANS! And HE LOVES SPECIAL HOT DOGS! (that would be sausage) And HE LOVES BEANS ON TOP OF SPECIAL HOT DOGS!
Other Flu '09 loves? FINDING NEMO! SCOOBY DOO! WATER! TEDDY GRAHAMS! BLANKETS! CINNAMON TOAST! GRAPE-FLAVORED MOTRIN! LIBRARY BOOKS!
I guess what I'm saying is that while we're tickled to pieces that he's feeling better (seriously: so grateful), if the fever doesn't break and if Alex is housebound for a couple of more days, the walls in this house will never make it. Because he will singlehandedly kick them down with his mad kah-rah-tay skills that apparently escalate to a whole new level with the help of the back end of a virus. Go figure.
Has the flu hit your house yet? Any tips for helping your little one(s) deal with cabin fever?
Hope y'all are well!