I am well aware that I probably enjoy watching sports a little bit more (AHEM) than your average girl. I have no idea why that is, but oh, I DO LOVE ME A LIVE SPORTING EVENT, especially if my Bulldogs are playing. In fact, if you gave me a choice between spending the day being pampered at some sort of spa or spending the day watching the Bulldogs play, I would choose the Bulldogs every single time.
I know. I'm weird. I can't help it.
So last week, when all the hype surrounding the Mississippi State/Florida game started to build, I COULD NOT STAND IT. I thought it would be oh-so-fun to be in Starkville when the Gators rolled into town. And even though David had some other stuff planned for the weekend and couldn't make the trip, he gave me his blessing to take the little guy on a road trip. Honestly, I had no expectations of being able to find tickets for the game since it was a sell-out, but I figured just being on campus would make for a mighty fine Saturday. Plus, our men's basketball team was having an open scrimmage at noon, so, you know, YES, PLEASE.
As it turned out, my friend Daphne called me Thursday night and said they had two extra tickets, and I was TICKLED MAROON, I tell you. I told Daph later if I'd known when we met our freshman year that she'd be calling me two decades later to offer me tickets to the State/ Florida game, I would've bought her a big, new bottle of Paul Mitchell Freeze & Shine right then and there. I might have even offered to distress her blue jeans with some straight-up bleach in the dorm's laundry room while I let her borrow my "Dirty Dancing" soundtrack cassette.
Anyway, early Saturday morning the little man and I hopped in the car and drove to Starkville. It was cloudy and gray outside – not to mention that the interstate was already pretty congested at 8 AM because of all the people driving to Tuscaloosa for the Alabama/Tennessee game – but I'll have you know that as soon as we hit Highway 82 right outside of Tuscaloosa, the traffic all but disappeared, and the sky started to clear.
By the time we rolled into Starkville the sky was almost turquoise, and we parked in our favorite gameday parking lot and started walking to the coliseum. Alex was so excited that he couldn't decide what he wanted to do first, but as soon as he saw all of the RVs in the coliseum parking lot, he became absolutely certain that he wanted to go in an RV and look around. In fact, when he spied a Florida fan who was sitting outside his RV in a lounge chair, he very loudly said that MAYBE THAT GUY WILL LET US INSIDE HIS RV, but I assured him that the Florida fans probably weren't in the mood to give Bulldog fans MID-MORNING TOURS OF THEIR RECREATIONAL VEHICLES.
But do y'all know what was waiting on us when we walked up to the edge of the coliseum? Three RVs that were on display by a local RV dealer. IT WAS AN RV OPEN HOUSE, FOR CRYING OUT LOUD.
Honestly, I felt in that very moment that the Lord had given us His gameday favor. Because I don't think I have to tell you that there was a six year-old who bounded up the steps into that very first RV and thought he had entered some sort of magical wonderland where all the appliances were his size. He also had a total a-ha moment when he realized that if he owned an RV, he could stretch out on the couch and watch a big ole television WHILE SOMEONE DROVE HIM AROUND, and it made me laugh so hard. Honestly, I think that RV may have helped him to solidify some Life Goals.
We walked in the coliseum about an hour before the scrimmage was scheduled to start, and since there was really no one in the building except for the women's basketball team down on the court, Alex decided he wanted to explore.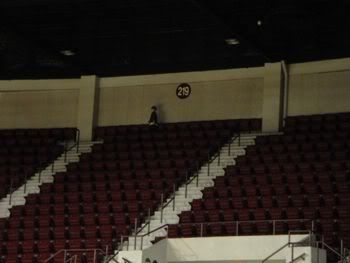 10,000 empty seats + many, many stairs = NON-STOP ENTERTAINMENT.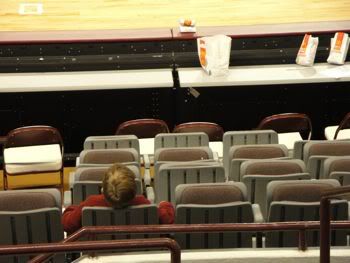 My friend Lea Margaret and her little boy got to the coliseum right at the end of the women's practice, and Alex and Mac were deee-lighted to see one another.
It was so sweet to watch them together – because the last time they saw each other they looked like this.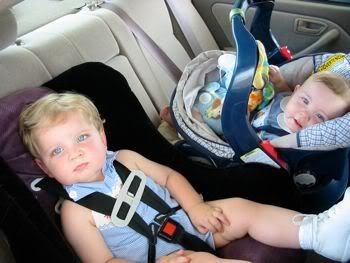 It's been a few years.
The boys had big fun watching the men's basketball team – at least until they both decided that they were very hungry and very thirsty and really, really wanted to go to the bookstore. But no way was I going to leave The Hump without snapping the young'un's picture on the basketball court.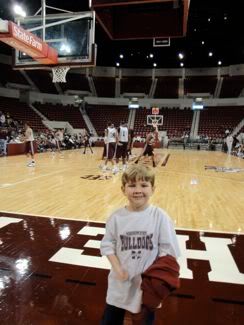 I FEEL A SENSE OF COMPLETENESS NOW.
The afternoon was sort of a wonderful blur of maroon and cowbells and old friends and blue skies and mums. OH, YES. MUMS. Everywhere with the mums.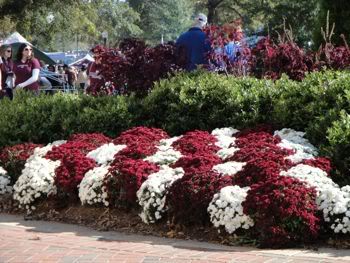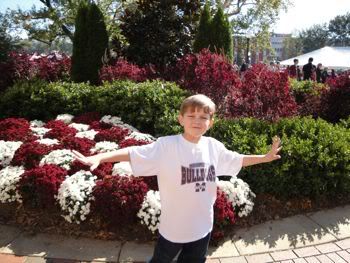 I loved the mums.
We were mighty excited to see our friends Todd and New Marti, who were in Mississippi for the game and a baby shower. And as you can tell by the pictures, Alex likes them just a little bit.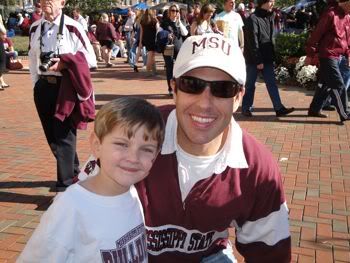 We also ran into my great friend from high school (and freshman year roommate), Amanda, who looks EXACTLY THE SAME, MY WORD, HOW DOES SHE DO IT?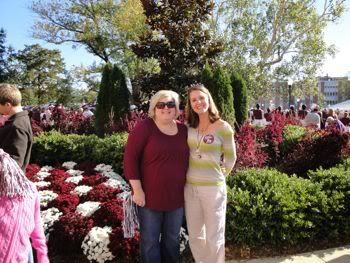 Thankfully we have both left acid-washed jeans and ginormous hair bows far, far behind.
Alex and I claimed our spots for the Dawg Walk, and once we were settled, he staged an elaborate Larry Boy re-enactment with some pom-poms.
I can't say that I understood what he was doing, but hey. He was happy. That was all that mattered.
When the team finally made the walk into the stadium, my little guy rang his cowbell like a champ. After all, IT'S HIS HERITAGE, PEOPLE. Brings a tear to mine eye.
And I'll bet you that 12 or 14 people showed up for the Dawg Walk.
SWEET MERCY it was crowded. But OH, it was fun.
We spent the rest of our pre-game time tailgating with Daphne and her family. This was the point in the afternoon when Alex really started to get revved up about the game, and he told Daph that she really, really needed to put up a sign that said "NO GATORS ALLOWED" on the tailgating tent. Then he started singing a version of the fight song that ended with him screaming, "GO STATE! HALLELUJAH! PRAISE THE LORD!"
Apparently that's the lesser-known, Baptist version of the fight song.
We walked in the stadium about 45 minutes before the game started, and OH, IT WAS LIVELY. Alex told me that it was the best day of his life in the whole wide world, and then he said, "That team from Florida is nothing but a bunch of…BABY WORMY GATORS BLAH BLAH, Mama."
I think we all know that if Tim Tebow had heard that level of smack talk, he would have run off the field in fear.
The 'Dogs played a whale of a game even though they didn't win (this play will go down as one of my very favorite Bulldog football moments ever). And after the game, we hung out by the field for a few minutes so that we could see our friend Bo, who's #44 for the Bulldogs.
Alex waited so patiently – he was NOT leaving that campus until he got to see Bo.
And finally, he did.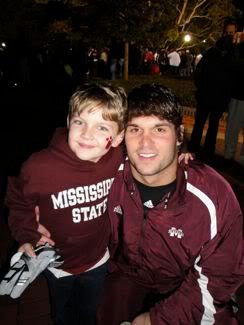 It was just the sweetest. Bo gave Alex his gloves and a sweatband from the game, and you want to talk about a little boy who could not quit smiling, NEVER YOU MIND THAT IT WAS 10:30 IN THE PM?
Thrilled to pieces, he was.
As we walked away from the field we ran into even more old friends, laughed with them for a few minutes (Mart, I won't forget to tell the flat-iron story) and very slowly made our way back to our car. It was a long day – twelve hours of on-campus fun – and we were ready to get to Daphne's mama's house so we could get some much-needed rest. But oh my goodness, it was THE BEST day. So full of sweet friends and tradition and nostalgia and laughter. More happy than my heart could contain.
Not to mention that I had the very best travel buddy in the whole wide world.
Go 'Dogs.