When D and I bought our first house way back in ye olden days – also known as the late 90s – I was totally fascinated by the fact that I could paint the walls whatever colors I wanted. In fact, I remember calling my friend Bubba, a very gifted interior designer, and asking him if he could recommend a good yellow for the kitchen.
"I don't know," he replied. "There are a lot to choose from. I mean, think about it this way: you majored in English. Can you recommmend a good VERB?"
Oh, touche', Bubba. Touche'.
And yes.
PROPELS.
It's always been a personal favorite.
Anyway, Bubba totally came through for me and picked out paint for every room in the house. His tasteful palette of neutrals lasted for approximately six months, at which point I decided that I HAD TO HAVE a purple kitchen, and really, the front bedroom would be so much cuter if it had a few stripes. And maybe the guest room really needed to be a bright green. And maybe I should never be allowed in a paint store ever again because LOOK! ORANGE!
When we moved to Birmingham a couple of years later, I decided to go with muted colors since our house was brand new. I have no idea what one thing has to do with the other, by the way, but somehow I decided that a new house with muted colors meant that I was officially a grown-up. A Grown-Up, even. Responsible. Far too mature for bright colors. I was going to be content to sit on my beige couch in my beige living room and watch PBS or maybe even some "Murder, She Wrote" reruns if I was feeling kicky.
GROWN-UP.
So y'all know what happened. I made it two years with the muted colors before I painted my kitchen a gold so bright that I'm fairly certain I still have some residual corneal damage. And when I finally got tired of kitchen walls that basically required me to wear sunglasses whenever I wanted to, oh, cook some oatmeal, I re-painted the kitchen a lively green that didn't really match anything else in my house. BUT IT MADE ME HAPPY.
I've fought the neutral / bold balance ever since we've been in our current house, because while I get the whole concept of subdued, understated decor – and while I love it in other people's houses – nothing about me is really subdued. I mean, I don't know if y'all have picked up on this, but I tend to ERR ON THE SIDE OF LOUD. And so back in the summer, I decided that since color is what energizes me and makes me smile when I walk in a room, I wanted more of it, dadgummit. That's why I painted my kitchen cabinets green. And then whipped up some no-sew window treatments in a bright fabric.
(So. Now that I've established my love of color, maybe now I'll move along to the actual point of this post.)
(Because do you know what I apparently resist almost as much as I resist neutrals?)
(BREVITY.)
Earlier this year I made my first attempt at turning Alex's old playroom – which is adjacent to our kitchen and breakfast area – into an office for me. It was functional and had some fun stuff on the walls, but after I painted the cabinets and put up the window treatments, it looked a little blah. And so last week I was cleaning and moving some stuff around when I looked at the desk in that room and thought, I want to paint my desk turquoise.
My logical, rational side thought, That's ridiculous. No grown woman has a turquoise desk.
And then my creative side thought, Hush it, logic.
I bought the desk at a thrift store a couple of years ago for ten dollars (TEN DOLLARS!), so it wasn't such a valuable piece of furniture that I was worried about ruining it. It has a not-so-lovely piece of laminate on the top, but the body of the desk is real-live wood, so it's sturdy and practical. Here's a picture.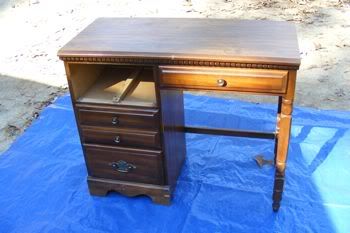 I decided that I was going to tackle it with spray paint because Thanksgiving was two days away and quite frankly I was in no mood to fool with paint brushes, so I went to the Walmarts and picked up two cans of spray paint. I decided on a color that was the closest thing I could find to a light-ish turquoise in a glossy finish, and six dollars later, I was ready to go.
And no kidding – within twenty minutes I was ALL DONE.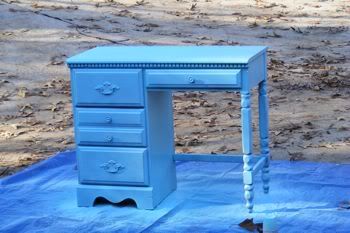 I painted the hardware because, well, it was easier that way and we're talking about a ten dollar desk. I can always take off the hardware later and paint it some kind of metallic finish. Or not.
Clearly I am an artiste who is deeply committed to her craft.
I let the desk dry for about an hour, and then we brought it inside. I moved it to a different wall, and then I hung (read: TACKED) a whole bunch of my favorite colorful things around the desk. And then I was all done.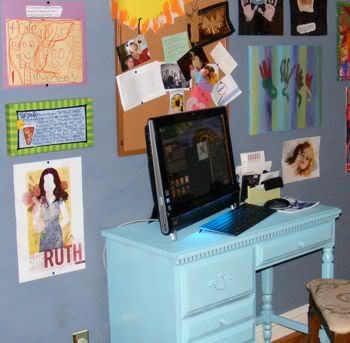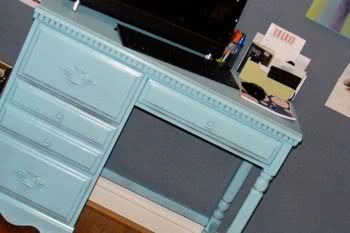 (I have no idea why I went with the angle on that last picture.)
(Perhaps I have unrealized dreams of becoming a beret-wearing photographer who specializes in images of painted thrift store furniture.)
Anyway, there you have it. The desk isn't perfect, but it's colorful. And it only cost me six whole dollars to give the office a little facelift.
Which certainly propels me to paint more stuff.