My hair has been an endless source of frustration for me lately. It's not really a cut issue or a color issue – though I could certainly use help in both of those areas, but we'll save that discussion for another day when I have access to a licensed counseling professional who can help me Express My Hair-Related Feelings and Evaluate My Unreasonable Hair Expectations – it's mostly a texture issue. I feel like my hair has gotten very fine and very flyaway and very no-I-will-not-behave-for-longer-than-ten-minutes-no-matter-how-much-hairspray-you-use.
Unfortunately, I cannot put my hair in time out.
But OH, IF I COULD.
Anyway, I've been frustrated by my hair's general lack of purpose. It's a weird length right now – longer than normal but not as long as I want it to be – and I don't really know what to do with it while I'm waiting for it to (hopefully) reach its style destination. Drying it with the round brush just makes it super flat, and using Velcro rollers gives me spectacular results for a full 30 to 45 seconds.
So.
Yesterday I was in Walmart, and as I made my way to the hair spray aisle, an old friend caught my eye. And in a moment of inspiration or desperation – I'm not sure which – I picked up that old friend and threw it in my cart and $15 later, we're BFFs again.
TOTAL. BFFs.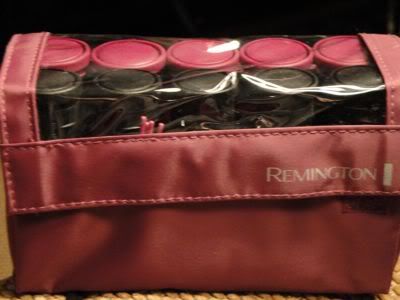 LYLAS!
This morning I used every single one of those hot rollers. Everysingleone. And after I took out the rollers and fixed my hair, it took me RIGHT BACK to 1988. Quite frankly the volume was unprecedented. All that was missing was an oversized (detachable) lace collar and some pastel Connie flats. And shoulder pads. And acid-washed jeans.
And Paul Mitchell Freeze-n-Shine.
This morning's volume was so uncharacteristic that I felt a little bit like I needed to tame the curls before I went out in public. After all, I didn't want people to feel like they'd been transported back in time to the set of "Designing Women." But after I worked with it a little bit, I felt like the hot rollers really helped. My hair had way more body than it has the last few months, and it's actually still a little bit curly right now. I don't know what to make of this phenomenon.
And you know what else? I always think of the 80s as being a fairly tragic time for hair, but now I'm thinking that the 80s actually taught us some valuable hair lessons. I mean, obviously we're supposed to discard the part of our 80s hair history where we wore banana clips that matched our outfits and teased our bangs into nests and tied large pieces of tulle into gigantor hairbows. But maybe – just maybe – it's time for us to embrace our Hot Roller Heritage.
Maybe – just maybe – it's time for us to admit that hot rollers can take us to places that round brushes cannot.
That's a hard word, I know. But I speak the truth in love.
And regardless of your hair styling preferences, I hope with all my heart that today brings you big hair and big dreams.
Big hair and big dreams.
Amen.