This past Saturday we celebrated David's 40th birthday. We ate lunch at our favorite Mexican place, browsed at a bookstore, stopped by our favorite bakery for some treats, lazed around the house and then enjoyed D's favorite meal for supper (country fried steak, rice and gravy, lima beans, rolls, tres leches cake). We were all about the favorites. There were even a few presents. It was a good day.
I thought the birthday festivities were over, but today I got an email from D with a subject line that said, "WOW." His birthday gift from Sister and her hubby had arrived, and he was so surprised and delighted by it that he actually sent me pictures.
Perhaps I should explain.
A few of y'all may remember that D has a theory about what he calls identifiable meat. His theory is this: guys don't want meat hidden in some casserole. They don't want to look at a serving dish and wonder what's underneath all those noodles. They want the chicken, pork, beef, bacon, etc. and so on and so forth to be front and center. Easy to identify. No guesswork required.
So today, when he received this:
And opened it to find this: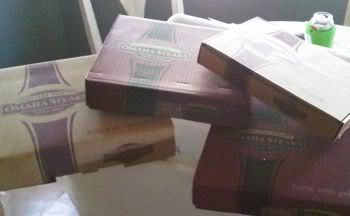 Well, you can imagine his joy. It was an abundance of identifiable meat riches. In fact, the styrofoam cooler contained three things that never fail to make D's heart skip a beat:
1) hamburger patties
2) steaks
3) dry ice (apparently dry ice enjoys a certain level of awesome among the people who have a Y chromosome…it's not as awesome as, you know, FIRE, but it's awesome nonetheless)
Also included? A package of the biggest hot dogs I've ever seen (for Alex, who saw the hot dogs, pumped his fist in the air and said "YES!") and a whole bunch of stuffed potatoes. So basically Sister and Barry marked the milestone of D's 40th by sending meat and carbs. Or as I like to call them: his love language.
And in case you're wondering, here's our revised supper line-up for the rest of the week.
Thursday night – identifiable meat
Friday night – identifiable meat
Saturday night – identifiable meat
Sunday night – identifiable meat
Plus taters, of course.
OF COURSE.
What's not to love?
Edited to add a completely unrelated P.S. – I have a new post up (about beauty and our culture) over at AllAccess. I'm telling you this because about every four days I think about how I need to do a better job of linking to my AllAccess posts. But then I forget to link to them. Because, well, there is TV to watch and chicken to fry and BEJEWELED BLITZ ISN'T GOING TO PLAY ITSELF, NOW IS IT? Anyway. As you were.