You know, I like to think that it takes a special brand of procrastination to mention that OH YES, I WILL DEFINITELY SHARE THE BOOTIE LINKS WITH YOU – and then sit in utter bootie silence for the next two weeks. I have no valid reasons for my negligence, but I do, however, have several excuses that I will present to you at this juncture:
– I was distracted by the slight hint of fall in the air.
– I was consumed with deep thoughts about the fact that there isn't one person on "Real Housewives of D.C." who makes me laugh. It's a problem. How can a show be a guilty pleasure if there's nothing pleasurable about it? Because then I just feel guilty. And I really don't need Bravo to add to my ish-ahs.
– I was solidifying my hair-related goals for fall 2010.
– I was re-watching the Mississippi State / Georgia game.
– I was trying to think of new and exciting ways to combine bacon and cheese.
But at last – at long, long last – I have finally gotten around to posting all the bootie links that Melanie sent me a a few weeks ago. And I made sure that she wasn't planning to use these links in a Fashion Friday, because, as I'm sure you can imagine, I'd hate for us to find ourselves in the midst of a dramatic blog stand-off with shocking allegations of improper usage of bootie links.
That would be just terrible.
Keep in mind that Melanie sent these links as inspiration. I like to look at the higher-end stuff and then find the most affordable alternative, always keeping in mind that comfort has to come first. So there you have it: my shoe-buying philosophy. No doubt your day is now richer than you ever dreamed.
Anyway. The links.
1.


I thought these booties were super cute, but I didn't think my recently injured ankle (HAVE I MENTIONED IT BEFORE?) could handle that strong of a wedge.
2.
These black booties were a little dressier with their kicky stiletto-ish heel, but the stiletto-ish heel and I parted ways several years ago and have yet to reconcile.
3.


I immediately fell in love with these cuffed booties and wanted to buy them and keep them forever. I adore the cuff, and I love that the buckles offer some adjustable options for those of us with calves issues. I made it my personal goal to find a more affordable option – and I'm tickled to tell you that I found one – but more on that in just a second.
4.
These suede booties are adorable, but my abnormally high arches would be miserable in them. Plus, the fact that they're secured by some sort of burlap cord leaves me a little uncertain.
5.


These were a little bit more my speed, and I felt like they offered me some good inspiration.
6.
Melanie wrote "LOVE THESE" next to the link for these booties, and I think they are great-looking. I'm just a wee bit uncertain about a cuff that gets into the heel area, mainly because I think I would inadvertently get tangled up with some sort of stick-like object underneath that cuff and fall and break my collarbone as a result. Clearly I have great confidence in the area of poise.
7.


These were my hands-down favorite. BANANAS. Unfortunately I just don't trust myself to wear them (see #6).
So once I made my way through all of Mel's suggestions (she really does have great taste, doesn't she?), I felt like I knew what I needed to look for in the more affordable versions.
The first place I looked was the Payless website (LOOK. I ALWAYS FIND SOME REALLY CUTE SHOES THERE.), and I sent Melanie a link to see if these booties were acceptable.
She responded that they were totally fine, but she suggested that I try them on first because I might find that I wanted to cut them off with a butter knife just to stop the pain.
That's a good word, my friends.
Melanie then suggested that I check out all the booties at Target, and I was immediately drawn to these –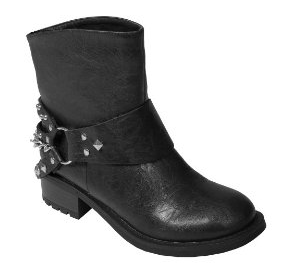 – because of the sensible heel and the fact that my calves would be a non-issue. However, after some deep thought I remembered that I've never bought a single pair of shoes from Target that offered me any lasting comfort, and I decided that I needed to move on.
Eventually I decided to look at the Rack Room website, and the booties looked so promising that I drove over to the closest Rack Room store. I had a GLORIOUS time, and I actually found several things that reminded me of the links Melanie sent me.

These cuffed booties are also adjustable in the calves and seem really versatile to me.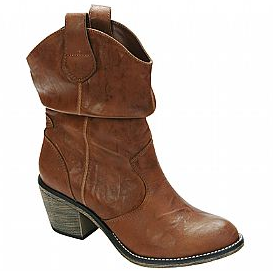 I loved these booties so much that I bought them. They come in black, too. Super comfortable and great-looking with leggings or jeans.
And these are really cute on the foot – though not as much in the picture – but I think they're a great option if you want a bootie that's more like a regular shoe.
I also bought a pair of booties from Rack Room that look a little bit more like cowboy boots, but they zip on the sides, which is a huge help to someone like me who has a difficult time getting my abnormally high arches wedged down into a flat boot. The side entrance makes it so much easier.
So there you have it. A 2010 Booties Extravaganza. I'm ever-so-thankful to have a sweet friend like Melanie who will spend upwards of two hours on a Saturday morning consulting with me about all my bootie-related needs.
Remember – like it says in Proverbs – a friend loves at all times, and a sister is born for booties research and support.
Or something like that.
Hallelujah and amen.