I've been meaning to hang curtains in my dining room for a sweet forever. I didn't want anything elaborate or fancy or complicated – just simple panels – but I knew that they were probably going to have to be made by somebody else because, well, I don't sew. Unless you count those six cloth napkins with gapped seams that I managed to put together back in 2001, of course. They were a real treasure.
This past spring I actually saw some curtains that I loved at World Market, but I didn't buy them because, well, I just didn't. I also looked at fabric a couple of times over the summer – even thought about the possibility of doing some mistreatments – but I couldn't commit.
The draperies, they overwhelmed me.
A couple of weeks ago I was in World Market with Sister in Nashville, and I remembered the curtains I'd seen several months before. I walked over to the window treatments section, looked around for a second and then I saw them – just as cute as I remembered – ONLY NOW ON SALE. I was intrigued.
When I got home I kept thinking about those World Market curtains and how they might be just the thing to add some warmth to my dining room. After all, I'd discovered them a while ago, but the magic was still there. The thrill wasn't gone. And since I'd set aside some money for house stuff and still had a little left over, I knew I could swing the curtains purchase without breaking the bank. Plus, curtain rods were also on sale, SO CLEARLY THE LORD WAS IN ALL OF IT.
Now normally my spiritual gift is to overthink things to the point of complete inaction, but since I've been shielding my eyes from the morning glare in the dining room for about four years, I figured that it was time to commit to either the curtains or some blinds or maybe even a big ole sheet. And that is why, after seven whole months of thinking about the various and sundry window treatment-related possibilities, I marched (okay. drove.) right over to the World Market and bought me some curtains.
I KNOW.
And guess what?
I love them.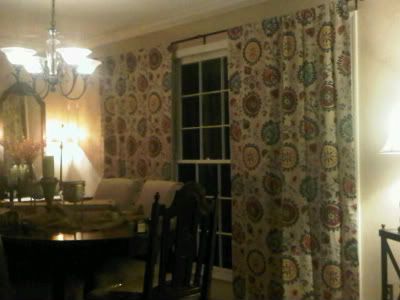 (However, I should probably make the Martha-esque disclaimer that I don't LOVE them LOVE them! I just really like them! Because you love God! You love people! But you don't love things! Unless it's a jacket from Steinmarts! I mean, it just stands to reason! Their jackets are perfectly beautiful! And so handy if you need a light sleeve!)
The curtains really do add so much color to the room, and they make me smile. So I'd call that a win.
The only drawback? The length on them isn't exactly right because the molding around our windows interfered a little bit with the ideal height for the brackets, but I'm not nearly as interested in perfection as I am in the fact that I FINALLY GOT SOME CURTAINS. Eventually I may add a little piece of coordinating fabric or trim to the bottom, or I may not. There's just not a bit of telling.
So there you have it. I can now check one more item off of my to-do list – which means that the DVR and I are about to have a marathon catch-up session. It's time.
(I've missed you terribly, 30 Rock and Survivor.)
(The curtains and I will be there soon!)