I'll go ahead and warn you that I've started this post about six times and have either dozed off or lost interest every single time.
This probably doesn't bode well.
But for whatever reason, I've spent most of the day wondering how in the world I didn't notice that someone was flogging me with wet towels last night while I slept. I woke up with a right eye that was almost completely swollen shut (silly allergies) and have been achy and sore and sinus-y and drowsy all day long. So basically I've been a joy and a delight. A ray of sunshine, if you will.
So. On to happy things!
Saturday we drove over to Starkville to see the Bulldogs play, and a fine time was had by all. Mississippi State has really thrown down the game day gauntlet over the last two or three years, and it is SUCH a fun environment – laid-back and festive all at the same time. It's a little bit like being at a huge family picnic with 50,000 people, but because of the way the tailgating is laid out, it never feels overwhelming or overly crowded. We love it so much. At one point Saturday I looked to my left and saw big inflatables for the kids, looked to my right and saw a blues duo singing and playing guitars underneath a big oak tree, looked straight ahead and saw tailgating tents that trailed way off into the distance – and I thought, "Well, this is just home."
And it is. It's our home away from home.
We walked over to the front of the stadium about an hour before Dawg Walk (when the players walk through the crowd on their way into the stadium), and while we were waiting for the festivities to start I got a little tickled looking at some of the day's ambitious Homecoming fashion choices. I for one cannot throw stones because when I was a sophomore at State I wore an all-wool ensemble to a game where the temperatures hovered in the 70s, so more than anything I just sat there and felt great empathy for the girls who had decided that the football game was the perfect place to break in their boots with four-inch heels and their sweater coats. Several of the girls had opted for shorter dresses since it was warm outside, but the wind was unkind, and I watched more than one girl walk across The Junction while holding onto her hemline for dear life. Sometimes the weather just doesn't cooperate with our fashion goals.
We had a big time at Dawg Walk, and the highlight was right at the end when I saw a familiar face coming toward us. A family friend of ours walked on to the football team at the beginning of the semester, and it had never occurred to me that he'd be participating in Dawg Walk and all the pre-game revelry. But there he was, walking toward the stadium with the rest of the team, and when Alex saw him he started to wave and jump up and down. Our friend spotted him and made a point to stop and give him a big hug – and it was about the sweetest part of our day. Alex thought he was the luckiest seven year-old alive. Such a great moment.
The little guy also got to hang out with a very big Bulldog.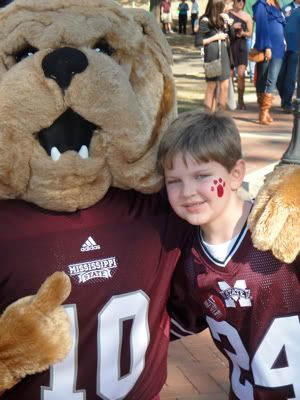 Afterwards we headed over to the spot where my friend Daphne and her family tailgate, and it was fun – as always – just to sit around and visit and solve the world's problems. Alex adores Daphne – ADORES HER – and as a result of that the tailgate tent is one of his favorite places on earth. This may be in part because Daph fixes him plates of pigs in a blanket and sausage balls and Little Debbie Fudge Rounds, but I think it's mostly because he knows that Daphne loves him and he just loves her right back. Makes me smile.
At the game we sat with our sweet friends The Hales, and I will confess that by the end of the first quarter I was ill as a hornet. We weren't playing well, the game was boring, and I was afraid that we were in for a big ole letdown. Right before halftime Emma Kate walked down to our seats, and we tried really, really hard to be optimistic about our chances. Plus, every time I would say something about our defense giving up big plays or our offense not being very productive, the seven year-old sitting next to me would say something like, "Mama! They're doing the best they can!" or "Mama! Be glad that they got a first down!" I wanted to tell him that his mama has a looooong history of watching Mississippi State football games that End Badly, but his enthusiasm got the better of me.
So we cheered and clapped and rang our cowbell, and what do you know – the Bulldogs won the game. They're bowl eligible for the first time in three years, and we're just as proud as we can be.
[insert ringing cowbell sound here]
[you'll just have to pretend]
[I don't have a recording of a cowbell handy]
More than anything, it was a great day with family and friends (I got to see Wendi, Elise and Tracey, too!). We had a blast (thanks, Barb!). And even though I'm a wee bit worse for the wear (thanks, sinuses!), my heart is full and happy.
So if you'll excuse me, my full, happy heart and I are going to bed. After all, it's been three whole hours since we've had a nap.
Go 'Dogs.