This is a compensated review by BlogHer and Pop-Tarts.
I was never a huge fan of Halloween when I was growing up, mainly because I'm sort of a chicken. I don't like scary movies. I don't like haunted houses. I don't like anything that involves anybody jumping out in front of me and screaming "Boo!" or "RAWR!" or "HEY THERE ARE FREE FRIED CHEESE STICKS HERE!"
Though truth be told, free fried cheese sticks makes almost any situation more bearable.
But because I'm not really the poster child for jumping on board with a bunch of Halloween festivities, it's really sort of a wonder that I've managed to get our child into some sort of costume every single October since he was born. Except for when he was one. I think I skipped a costume when he was one. Let's just go ahead and assume that it's because I was tired.
Our church used to have Trunk or Treat, and that was our motivation for costume-related fun for a couple of years. By the time the little guy started pre-school, we found ourselves in the midst of the Fall Festival tradition – which, truth be told, suits me way better than Halloween because nobody's going to try to scare you at a Fall Festival. Unless you're frightened by inflatable slides and cake walks, in which case the whole Fall Festival thing might not be for you.
Over the last few years it's been fun to see our boy's costume choices mirror the stuff that interests him; he's dressed up as Mr. Incredible, Spider Man, Obi Wan Kenobi and even Darth Vader. It's been all-light-sabers-all-the-time around our house for two straight years. But this year – well, it's a departure from the norm for us. Alex isn't dressing up as a character from a favorite movie. He's dressing up as this guy.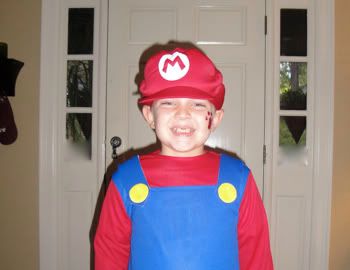 Yep. Mario. From Super Mario Bros. Complete with some mad jumping moves and all manner of sound effects. He's beside himself with excitement. I've actually hidden the costume in the back of my car until it's time for the Fall Festival – otherwise it'll be worn slap-out by the time the Fall Festival rolls around.
So what about the kids in your family? What are their favorite costumes? Answer in the comments, and you'll be entered to win a $100 Visa gift card courtesy of BlogHer.
Be sure to check out the BlogHer.com exclusive offers page and click through to the other bloggers' reviews; you have nine more chances to win!
And finally, here are the official rules.
Happy Costumes, everybody!
This giveaway is now closed.