Over the weekend D went to Academy Sports to pick up a couple of things for a camping trip that he and the little man have coming up in a few weeks. Camping has turned out to be one of Alex's ALL-TIME FAVORITE THINGS EVER, and it's a fun little twist of family irony considering my love for air conditioning and cable television and doors that can be secured with LOCKS AND BOLTS.
As tickled to pieces as I am that my fellas enjoy going camping together, I'm firm in my conviction that it's just not my thing. After all, I am a person who cannot bear to read historical fiction because I can't stop thinking about how blazing hot everyone must have been in all those corsets and petticoats and bonnets. And then I get all co-dependent and worried because they must have been just miserable and THEY DIDN'T EVEN HAVE A WINDOW UNIT.
Besides, I really don't see anything even remotely romantic or idyllic about a book where a bunch of Southern belles from the 1800s show up for a festive August picnic in their finest antebellum gowns. Because really, how useful are those pretty gowns going to be when all those girls are laid out with a heat stroke fifteen minutes after their arrival?
DEHYDRATION IS RARELY GLAMOROUS, MY FRIENDS.
Also: we can herald the pluck and the grit of the whole Ingalls family until the cows come home, but that does not change the fact that Laura Ingalls had to have been BURNING SLAP UP when she ran around those pastures or fields and helped Ma whip up a hearty summertime stew. Honestly, if I were Laura Ingalls I'd have befriended Nellie Olsen at every given opportunity. Because do you know what I bet Mr. Olsen had access to by virtue of the fact that he owned a store? AN ICE BLOCK.
Here's a loaf of homemade bread, Nellie! And your bangs look FANTASTIC this morning! Why don't we talk about how you keep your dresses so crisp and white WHILE WE SIT ON THE ICE BLOCK?
I now have no idea what I was originally talking about.
Oh, yes. Camping. Sort of.
So D came home with his Academy purchases, and he said, "I bought a chair for Alex" as he pulled a small box from the shopping bag. I never know what to expect when my husband buys something for our house, mainly because when we first got married his favorite furniture items always required assembly and typically employed a design motif of black laminate and smoky glass panels.
Not that there's anything wrong with that, of course.
Anyway, D went on to explain that the chair he'd picked up for Alex was inflatable. He'd noticed that when the little guy has friends over and they're watching a movie or playing the Wii, one person usually claims the bean bag and then the others sort of sprawl out on the floor. D thought it might be nice if there was one more kid-friendly seat, and I thought that sounded like a fine idea, especially since it wouldn't be something that we'd necessarily need to keep out all the time. I pictured something about the size of those convertible chairs you find in toy departments, and I was totally on board.
Well.
Tonight before the little guy's bedtime, D mentioned to Alex that they needed to blow up the new chair (those words do have a certain air of sophistication about them, don't they?). I didn't pay a whole lot of attention to the process because all the air pump action was going on behind me. After about five minutes, though, D said, "I think this chair might be a little bit bigger than I originally thought," and y'all, when I turned around, OH HAVE MERCY I AM CERTAIN THAT I GASPED AUDIBLY.
You see, it's really not so much a chair as it is a chair and a half. Or a loveseat. It's HUGE. And it would be fine to set up for Alex and his buddies when they need it, but I'm afeared that we would RIP IT TO SMITHEREENS if we tried to move the inflated version down the hall. It's really best-suited for ON-SITE inflation, come to think of it.
We took a break from our chair issues for a few minutes so that we could tuck in the little guy and say prayers, and afterwards I finished cleaning up the kitchen. When I walked back in the den about twenty minutes later, I saw that my husband had found a way to incorporate the new (INFLATABLE) chair into our decor. Approximately twelve inches away from the television.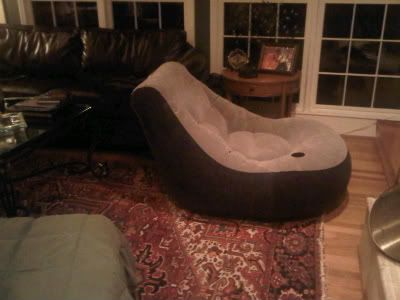 SWEET FANCY MOSES.
My eyes must have been as wide as saucers because D immediately said, "It won't stay there forever. REALLY. Because when you need for the room to look pretty, WE CAN JUST DEFLATE IT." And then he sat down on his inflatable throne and blew up some things on the Xbox. I had to laugh, mainly because he was so delighted by his new set-up. Plus, it's apparent that the chair meets several of my husband's furniture requirements. It's portable, it has a cup holder – all that's missing, really, is the ability to recline.
Since D was playing video games, I grabbed my laptop so that I could chronicle our recent decorative developments while I watched some HGTV in the guest room. An hour or so later I decided that I needed a little orange juice, and when I walked past the den, I immediately noticed that D didn't leave the chair raft in front of the TV when he finished playing Xbox. I guess that's the good news.
Here's the bad news.
Apparently this is where we're storing it. Or stacking it, as it were.
Clearly we're going to have to come up with, oh, I don't know, A DIFFERENT PLAN.
And do you know what? Despite my admitted aversion to Things Historical, I'm convinced that I know exactly how Laura Ingalls would handle this situation.
She'd pop that sucker with one of Nellie Olsen's hair pins.
Maybe there's something to be said for ye olden days after all.