One spring afternoon in the early years of our marriage, my husband went home for lunch one day and found a very skinny, very pregnant dog lying in our neighbors' flower bed. They said they didn't know where she came from, but they did know that they had no interest in keeping her. Since D has never met a dog for which he did not feel immediate, heart-wrenching affection, he fixed the dog some water and some food. And when I got home a few hours later, Mystery Dog had moved to the flower bed in front of our house. Since we already had a dog – a lab who was several months old – I was bound and determined that THE STRAY DOG, SHE WOULD NOT WIN ME OVER.
But she was covered in fleas.
And she was scared.
And she was clearly great with puppies.
So, you know, I took her inside and gave her a bath.
We decided that night that we'd take care of her until her puppies arrived, but then – AND WE MEANT IT – we'd find her a good home. Sure enough, we managed to find great people for every single of one of those puppies, but the dog – who we'd since named Ally McBeal because, well, she looked like she could use a good steak dinner – showed no signs of wanting to leave. We talked about it and made a decision to keep her, but she was going to have to be an outside dog. Plain and simple. The end.
One night a few weeks later D was out of town, and it was raining. In south Louisiana it always seems like it's raining sideways, or at least it did to me, and I felt a little sorry for Ally the Skinny Dog who was in our backyard. I decided that spending one night in our bedroom wouldn't hurt a thing, and besides, it wasn't going to be a regular occurrence. So I put a towel on the floor of our bedroom, called her inside, and she curled up on that towel like it was the world's finest dog bed. She never made a sound – but her sweet little eyes told me that she was grateful.
I'll have you know that Miss Ally never slept outside again.
So now it's almost twelve years later, and while we have no idea how old Ally was when she came to us, we tell ourselves that she was one. Because if she was, say, five or six, then that would make her a Really Old Dog at this point. And we don't want for her to be a Really Old Dog. We want for her to stay with us forever. It's where she belongs.
We know that Ally is getting older. The beige marks on her face have turned white, and her formerly jet-black coat is sprinkled with gray. But she's just as sweet and loving as she was that day we found her in the flowerbed. She makes regular trips to the doggy beauty shop, rests on three different dog beds that are scattered throughout our house, gets lots of hugs and kisses from a certain second grader, and basically has the run of our house. And recently, when we switched her to Purina Pro Plan Selects food (the Natural Chicken & Brown Rice formula), she overcame her initial uncertainty and decided that mealtime is the very best time of day. She loves her new food, and we feel so good about giving it to her. It's made from brown rice, real chicken, and it's loaded with protein (it even has whole egg protein to make Ally's coat all nice and shiny). After all, we want to take really good care of her so that she's part of our family for a really long time.
What can I say? She really is the best dog in the whole wide world.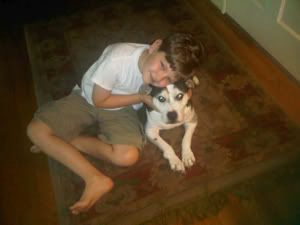 We're so glad she found us.
If you'd like to enter win a $100 Visa gift card courtesy of BlogHer, just leave a comment that answers the following question: what's something fun or special that you like to do for your pet? Do you keep a stockpile of special treats? Do you go on hikes together? Do you like to snuggle up on the couch and watch TV?
Be sure to check out the other participating bloggers for even more chances to win! There's also a $3 coupon available; just click here to find it!
This giveaway will run from 6/20/11-7/20/11.
Rules:
No duplicate comments.
You may receive (2) total entries by selecting from the following entry methods:
a) Leave a comment in response to the sweepstakes prompt on this post
b) Tweet about this promotion and leave the URL to that tweet in a comment on this post
c) Blog about this promotion and leave the URL to that post in a comment on this post
d) For those with no Twitter or blog, read the official rules to learn about an alternate form of entry.
This giveaway is open to US Residents age 18 or older.
Winners will be selected via random draw, and will be notified by e-mail.
You have 72 hours to get back to me, otherwise a new winner will be selected.
The Official Rules are available here.