This post is sponsored by Lands' End.
There are few things that fill me with fear and trembling more than trying on swimsuits. It's an inescapable part of life, of course, since we have a child who loves the water (and, to be fair, I love the water, too), but there's something so very, um, humbling about standing in front of a mirror, looking at yourself in a swimsuit and thinking, Well, for better or worse, this is what we have to work with.
For the longest time I'd make do with inexpensive swimsuits, but in the post-childbirth years I've discovered that I feel so much more relaxed and comfortable at the beach or pool when I'm wearing a swimsuit that's made well. And for the last couple of years, those swimsuits have been made by Lands' End.
A couple of weeks ago the Lands' End people asked if I'd be interested in picking out a new swimsuit and writing a review, and I asked if I could do a giveaway, too. Since they are nice and lovely and accommodating, they agreed. For me it just boils down to the fact that I love their swimsuits. I wear their swimsuits. I know firsthand how durable and comfortable and dare I say flattering they are. So it only stands to reason that I'd welcome the chance to share the Lands' End suits with you, the very best internets in the entire wide world interweb, amen.
I mean, look at all this cuteness.
Fun and colorful.
So flattering.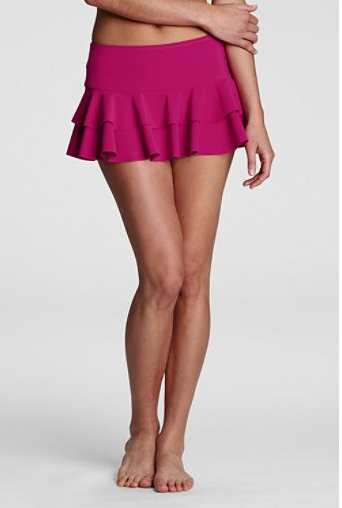 Adorable swim mini.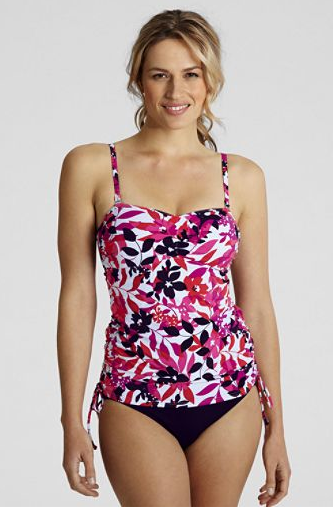 Perfect with this top.
Sassy.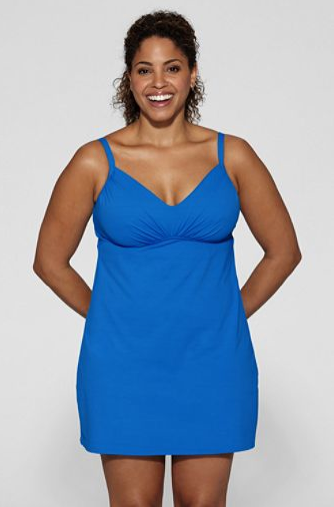 Effortless.
These suits hold their shape over and over again; you need not worry about it fitting one way when you leave the house and sagging in unflattering places by the time you get home after a day at the pool. They launder like a dream, and – here's my favorite part – you don't have to constantly tug at them and check them to make sure that everything that's supposed to be covered is still covered.
One more thing: I would recommend ordering a size larger than you normally wear if you buy any of the slenderizing styles; my experience has been that the fabric is so substantial and sturdy that there's not as much wiggle room as you might be used to in other suits. The regular suits seem to run pretty true to size, but be sure to use the on-site reviews as a guide.
So. If you'd like to enter to win a $100 Lands' End gift card, here's what you need to do:
1. Click over to Lands' End.
2. Check out the swimsuits (for women, men or kids – it matters not).
3. Come back here and share your the name of one of your favorite suits, cover-ups, towels, etc. in the comments.
4. For an extra entry, you can tweet about this giveaway and then leave the URL of your tweet in the comments.
5. That's all!
And just FYI: if you win the $100 gift card, you can use it for whatever you want on the Lands' End site: swimsuits, school clothes, Mama clothes, backpacks – whatever you'd like!
This giveaway will run from July 1, 2011-July 8, 2011. The winner will be notified by email and will have 72 hours to respond to me. If the winner hasn't responded within 72 hours, I'll select another winner.
Have fun, y'all!
This giveaway is now closed.