When I was growing up, parents didn't really give much thought to how they were going to prepare their kids for technology. It was the 70s and 80s, after all, and the only real technology on our horizon was a home computer that ran MS-DOS or the sah-weet Texas Instruments calculator that marked the beginning of pre-calculus. Well, and there was also the Brother Word Processor that I took to college my junior year, but considering that all I could do with it was 1) type papers and 2) print papers, it didn't really add to my understanding about the responsibilities that go along with technology. Unless the responsibilities involved buying pricey typewriter ribbons, of course.
But the times, they have changed. And as the mama of an eight year-old, I sometimes feel a little bit panicked when I think of everything that's "out there." Between the web, texting, Facebook, emailing and IM'ing, there's just a lot to consider, you know? So far our little guy's computer use is restricted to about five sites that we have bookmarked for him, and the computer that he uses is in a wide-open area right off of our kitchen, AS IT FOREVER WILL BE. But I know the day is coming when we'll need to help him broaden his technological horizons – for schoolwork if nothing else – and I want to be sure that we teach him well.
So, given all of that, it was a no-brainer for me when BlogHer asked if I'd like to review MouseMail, a web-based email client that's geared toward first-time email users and designed to help parents supervise and protect their kids. I thought the concept sounded great, and while an email account is probably a year or two down the road for our little guy, I'm all for testing out options that will enable us to navigate unchartered email territory a little easier when the time comes. Not to mention the fact that I was delighted to hear that a company was forward-thinking enough to recognize that there are a lot of parents who want to be a part of the process when it comes to introducing technology to their kids.
A couple of weeks ago I went to MouseMail.com and set up an account for me and an account for Alex. I wanted to know how much control I'd have over his account, and I also wanted to know what the email interface would be like for him. What I've discovered as I've taken the service for a little "test drive," so to speak, is that there are several aspects that I definitely like – but a few that I would change if I could.
What do I like?
Well, here's a list.
1) The parent can see any message that comes into or goes out of the child's email account. On top of that, a message doesn't even make it to the child's inbox until the parent has approved the message or the sender. I think that's great. Parents can also approve contacts (like, say, a sibling or a grandparent) so that those emails go directly to the child's inbox, but if those emails contain any language that's listed as inappropriate in the MouseMail dictionary, the message is flagged and sits in moderation until the parent has a chance to look at it.
2) MouseMail comes complete with a dictionary that flags inappropriate words and abbreviations. Parents can add to that dictionary as frequently as they like.
3) A parent can monitor accounts for all of their children from one central dashboard. If you have four kids with email accounts, you can adjust their individual settings to whatever might be age-appropriate for them, and you don't have to log in and log out of five different accounts to do that. Having all the kids' email addresses in one place is much more efficient and convenient. You just click on a child's name, see if there's anything to review, then move on to the next child.
4) The interface is very kid-friendly. It's straightforward, and it's icon-driven. As tech-savvy as kids are today, there's no question that they'd be comfortably emailing within five minutes of logging on for the first time. It's always nice to be able to introduce something new without frustration for you or your kids.
5) Parents control what features kids can use. MouseMail also offers web texting and games (more on those things later), but parents can modify those features so that kids can't use them. Parents can also control the times of day (and days of the week) when kids can use the web texting feature, and I think that will come in handy for parents who want for their children to use that feature.
What would I change?
1) MouseMail comes with games. I'm not sure why this is necessary, but I initially figured it was harmless and no big deal. However, after I clicked around a little bit, I realized that each game contains a link to a gaming site. I thought maybe the link only worked for parents, but when I logged in to Alex's account, I realized that links work for kids, too. It seems a little strange to me that an email service designed to protect kids would have links to sites that I'd never allow my child to visit at this stage in his life. Parents can block the games so that kids can't see them, but there are over 30 games, and it was kind of a pain to go through and individually block every single one.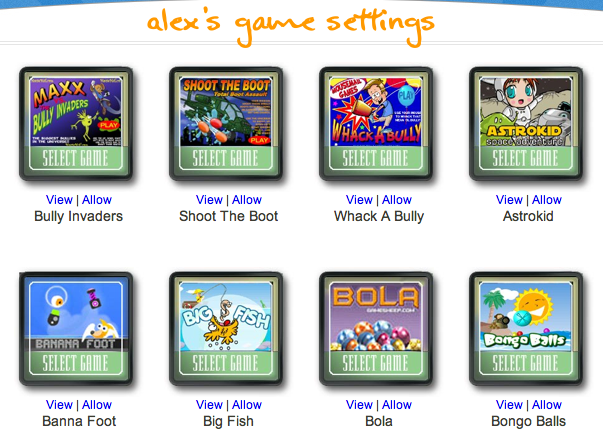 I'd love to see a "block all" option. Plus, the games icon still shows up at the bottom of the big list of red icons on the child's mail dashboard – even if all of the games are blocked. If there's a way to block the games icon and prevent it from showing up on the child's account, I haven't figured it out yet.
2) MouseMail also comes with web texting. Kids just click on a phone icon, and at that point they can either select a contact (which has been approved by the parent) or enter in a phone number. I think that being able to enter in a phone number is a bad idea. Just to see how it worked, I signed in to Alex's account and entered a friend's phone number. I was able to send that friend a text without the text going to moderation for parent review. My friend's reply did go to moderation, which is good, but I just don't love the thought of young kids being able to text random numbers. There was a work-around, though; I went into the parent settings and created a rule that pretty much turned off the texting feature.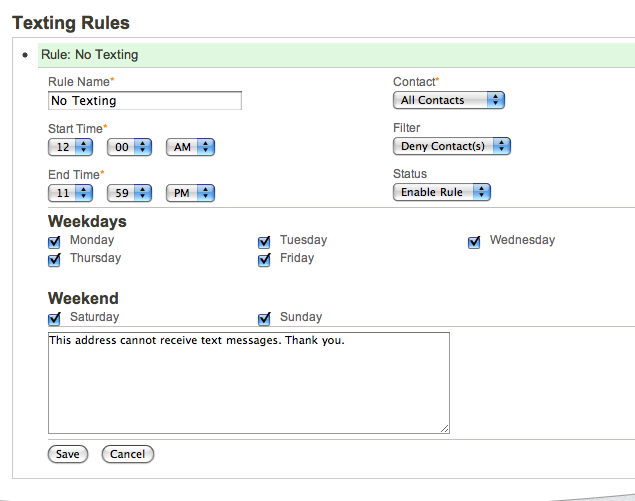 The icon still shows up on the child's dashboard, though – and if there's a way to get rid of it, I haven't found it.

3) There's a tasks feature where a parent can enter a chore or assignment, and then kids earn MouseMail points when the task is completed. Kids also earn points that go in their MouseMail "bank" when they answer a question correctly when they log in. Keeping up with points and rewards and all that sort of stuff just isn't my thing, so that's definitely a feature that I'd turn off if I could. And I'd remove the icon on my child's dashboard, too. :-)
All in all, I think MouseMail is a great concept. I so appreciate that they're trying to cooperate with parents as we help our kids learn to be responsible and safe as far as technology is concerned. I also recognize that it's a free service that will no doubt provide a lot of value for thousands of parents. I would love, though, to have the option to pay a minimal fee in order to have greater customization. I think it would be great if parents could remove the icons of features that they don't want their kids to use.
MouseMail is definitely on the right track, and I'll be curious to see how they modify and improve this much-needed email option. I'll continue to check my account so that I can keep up with changes, and I'll definitely consider MouseMail when it's time for our little boy to have his first email account. I hope that it'll be more customizable when that day comes.
So what about you? Do you have any practical tips for helping kids learn how to be responsible with technology? Do you think there's an ideal age to introduce email? Or cell phones? Leave your feedback in the comments, and you'll be entered to win a $100 Visa gift card courtesy of BlogHer.
Also, visit the BlogHer Promotions and Prizes section for more chances to win!
This sweepstakes will run from 7/18-8/15.
Can't wait to hear from y'all – and good luck!
No duplicate comments.
You may receive (2) total entries by selecting from the following entry
methods:
a) Leave a comment in response to the sweepstakes prompt on this post
b) Tweet about this promotion and leave the URL to that tweet in a comment
on this post
c) Blog about this promotion and leave the URL to that post in a comment on
this post
d) For those with no Twitter or blog, read the official rules to learn about
an alternate form of entry.
This giveaway is open to US Residents age 18 or older
Winners will be selected via random draw, and will be notified by e-mail.
You have 72 hours to get back to me, otherwise a new winner will be
selected.
The Official Rules are available here.
This giveaway is now closed.