According to the Boston Globe, the word "literally" is "literally the most misused word." (via)
*****
This morning when I checked my email I saw one of the most beautiful phrases in the English language: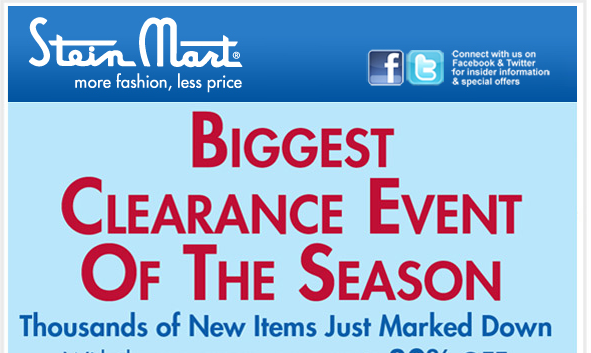 Hallelujah.
And just FYI: a week or two ago someone left a funny comment saying that they hope Steinmart(s) pays me for all the free advertising that I give them. Oh, that it were so – but the fact of the matter is that I have never, ever heard from the Steinmart(s) people. I'm not even remotely on their social media radar, and that is fine with me. I think it's good and healthy that I can adore the Steinmart(s) without any sort of bloggy attachment.
*****
Giveaway Round-Up: MouseMail ($100 Visa gift card), bodycology rich&creamy (bodycology gift basket), Purina ProPlan Selects ($100 Visa gift card).
*****
Two guys named Seth and Jeff – who work at LifeWay – were in charge of the little video that Mel and I did for .MOM last week. Our friend Paige told Melanie and me ahead of time that they are both just crazy gifted, and listen – she wasn't kidding. Within two minutes of meeting them I felt so comfortable (I am not necessarily a fan of participating in videos/acting/any sort of skit), and their VERY sharp senses of humor totally won me over.
Anyway, yesterday Paige sent us an email with a link to a short film that Seth directed. Apparently it has movie people all abuzz (the short film, not Paige's email). We watched it last night and LOVED IT.
I think you will, too.
*****
Tomorrow I'm spending the afternoon here. I probably won't sleep tonight because of my OFF THE CHARTS EXCITEMENT. It really is a little bit of a dream come true for me, so just rest in the peace of knowing that I will probably be blogging about it FOR THE REST OF MY LIFE.
*****
All righty. Now I must fold clothes. And perhaps shower. I might even unload the dishwasher, but I can't make any promises. Hope y'all have a great Tuesday!