Well, I need to thank y'all for inspiring me to get my earrings organized (OH MY LANDS – that is a first world sentence isn't it?). I was going to try the ice cube trays method, but I kind of have a thing for big hoop earrings, and I didn't think they'd fit. I found some adorable little jewelry trees at the Steinmart, but since those kind of things require some follow-through (you have to hang the earrings as opposed to tossing them into their designated spot), I knew that they'd look great initially but eventually become decorative pieces with earrings scattered around the base.
But then I went to Home Goods, and I found a really big jewelry tray that seemed like the perfect solution. It can live (stay, sit, whatever) on top of a chest in my closet, so it's not anything that has to be stowed / put away every single day. Also, since there's a limited amount of compartments, the tray forced me to CLEAN OUT THE EARRING HODGEPODGE, ALREADY. And finally, I think it's cute.
So here you have it.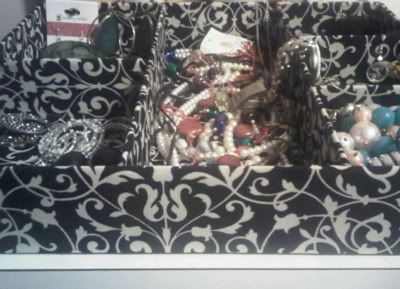 I know that for those of y'all who are super-organized, that tray probably makes you twitch a little bit. But for me, someone who is definitely NOT super-organized, it's just the right mix of flexibility and structure. It makes me happy.
Next.
This week is our annual cousins' beach trip. Since the husbands aren't here because of work stuff, my cousin Paige and I spent most of yesterday afternoon unloading the cars, unpacking the groceries and planning the meals. We also spent a significant amount of time getting really tickled about nothing in particular and then laughing until we wheezed. It's what we do.
I went to the grocery store in Birmingham last Friday night so that I could get some of the "staples shopping" out of the way. I like to shop in a familiar environment, and a grocery trip at the beach takes twice as long because I don't know where anything is. Anyway, the cousins' beach trip is the one time all year when we pretty much throw caution to the wind with snack foods. It's vacation. ENJOY THE POTATO CHIPS, KIDS.
All that to say: when I was about to check out at the grocery store I snapped a picture of my cart. Because I SHOULD BE ASHAMED.
Please note the redemptive presence of the low sugar grape jelly. And there's some fruit buried in there somewhere.
And seriously, what's going on with potato chips these days? I bought a package of the Loaded Baked Potato Pringles because I know an eight year-old who thinks they're the greatest special snack ever, but I didn't know what to think when I was steering my car down the aisle and saw these: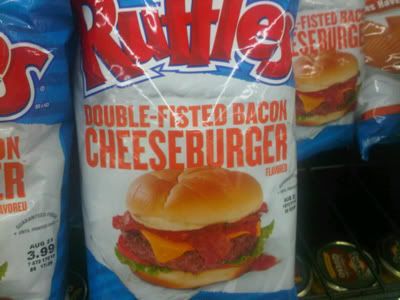 People, we may need to accept the fact that we've exhausted all of our flavor options as far as the potato chip is concerned. We may need to be done.
Of course, the bacon cheeseburger chips were next to the Molten Hot Wings chips (which several people on the Twitter said were absolutely delicious), so it looks like we may be in the midst of a specialty flavors trend. I can only imagine the possibilities.
Lobster Fettucine chips?
Chicken Parmesan chips?
Lamb Gyro chips?
Fish & Chips chips?
There's not a bit of telling what's next.