I've mentioned before that my mama is the queen of form over function. She likes for everything on display in her house to be aesthetically pleasing, which is precisely why she keeps all the bed pillows in a closet and not on the beds.
It's also why she is constantly looking for new and inventive ways to hide Daddy's computer. What with all those unseemly cords, you understand.
So when D and I bought the new-to-us elliptical motion machine last week, I have to confess that the part of me that shares my mama's decorative gene pool desperately wanted to figure out a way to make everything pretty, to figure out how to cleverly disguise the six foot-long black steel contraption that is now taking up residence in our home. I even thought about putting the elliptical in another bedroom, but since we tend to have a good bit of company, it seemed silly to tear apart one of the extra bedrooms when there was plenty of room in ours.
After a couple of days of considering all of the possibilities, I made a final decision. The best place for the elliptical really is in a corner of the master bedroom. It would only require moving one little piece of furniture, so for the most part it would be a super-easy transition. It was the right thing to do.
However.
Once we got everything moved, I walked in our room and felt just the slightest sense of hesitation. Because, well, DADGUM. The elliptical is just so, you know, big. And imposing. And not made of wood. And not capable of displaying family photographs or stacks of favorite books.
(sidenote: That big thing on the wall to the right is the previous owners' headboard for their bed frame. We've thought about removing it, but it's so securely attached that the whole wall would come down with it. And that is why I try to pretend like it's a decorative feature and not an annoyance, though sometimes it definitely feels more like that last thing.)
After we adjusted the angle of the elliptical a little bit and scooted it as far back into the corner as we could, I realized that I was just going to have to make my peace with it. It's not the most attractive accent piece in our room, but it's hopefully going to help me to feel better.
So as I stood there and stared at it and vowed that I wouldn't let it rob me of my decorative mojo, D apparently picked up on the fact that I was hesistant. He knows how much I like for a room to have a good "flow," and he knows this because he would've stationed some sort of recliner with a cooler as well as a massage feature in the dead-center of our living room a long time ago if he didn't have to take my love for "flow" into account. And so, considering the fact that we'd just moved a 200-pound piece of machinery into the corner of our bedroom, he was able to recognize that I was feeling a little unsettled.
And that is when he grabbed a throw from a nearby chair, grinned, and said, "Here. I'll fix it just like your mama would."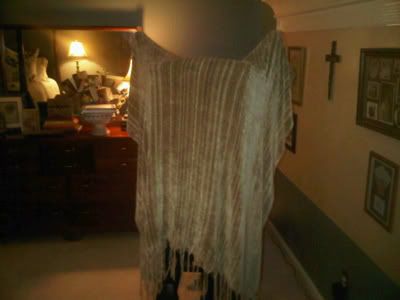 God bless him. It made me so happy.
And just so you know: I didn't leave it that way. I like to think that I'm growing as a person.
But you'd better believe that I reserve the right to construct some sort of elaborate six-sided decorative screen in order to conceal all those handlebars and and pedals and wheels.
I think I'll call Mama and see if she wants to start drawing up the plans.