– Annie's post on Queen Esther's courage is so fun, and it struck me as something that could be such a great devotion to read to (or read with) kids.
– About a year ago the little man did sort of a paper maiche' / watercolor portrait of Africa (obviously he did this at church, under the supervision of grown-ups who don't twitch at the sight of crafts). I loved it so much, and my mama actually surprised me over the summer by having it framed. I hung it in our half bath and love it – and have thought about creating a little "wall of nations" around the painting that A. did.
The other day my friend Kate sent me a link to some art by a precious 6 year-old girl who has a heart for oprhans and is helping raise money to bring her baby sister home from Africa.
I was so touched that I'm adding Emma's art to our little powder room collection. I thought some of y'all might want to do the same.
– I have a new post up over at Ree's blog about movies that (in my opinion) should never, ever be re-made. BACK OFF, HOLLYWOOD.
– Per sweet reader ANDREA's suggestion (ANDREA always types in all caps because her kids spilled water on her computer and now ALL CAPS is her only option – it cracks me up whenever I see a comment or email from her), Michael Buble's new Christmas album is definitely worth our attention. I'm about to download it in just a little bit. I like to have all my Christmas albums lined up and ready to go by the day after Halloween, thank you very much.
– I cracked up this morning when I saw a poll question from Steinmart on Facebook: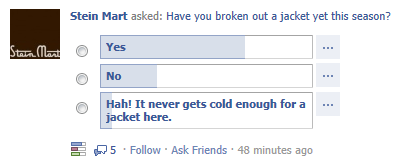 I wished with everything in me that they had the option of clicking "MARTHA HAS!"
It's never too early for a jacket! For a three-quarter sleeve jacket! It's just never too early!
– Finally, remember that from now until October 31st, you can get 10% off of your entire Nations Outfitters order if you use the coupon code BOO MAMA (two words) at check-out. FANCY.